3 Day Cagayan de Oro Travel Itinerary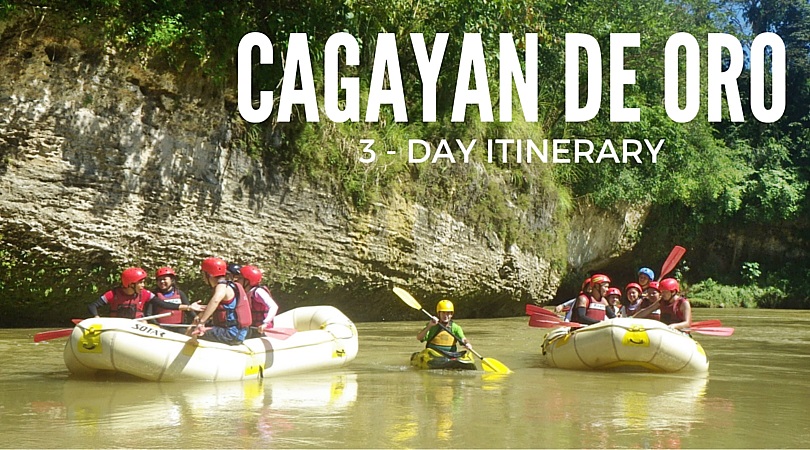 Cagayan De Oro is known as the "City of Golden Friendship." Locals of Cagayan de Oro are friendly and accommodating to travelers, and well-versed in both English and Tagalog in addition to their native tongue. It is one of the best place to get an adventure-filled experience with outdoor parks, and adventure tours it offers. To enjoy and experience Cagayan de Oro, a 3 day 2 night travel is recommend. Here is a 3 Day Cagayan de Oro travel itinerary for those planning a trip to the City of Golden Friendship!
Day 1 – River trekking at Mapawa Nature Park
Mapawa Nature Park is located 30 minutes away from the city proper. It offers a 20-minute trail hike that takes you to a 350-year-old heritage tree, and another 15-minute hike to the jump-off point for the river trek. A two storey high waterfalls acts as a natural slide, and a six-storey-high waterfall safe to rappel down, and a 25-foot-high cliff jump. This river trek costs 1,200PhP per person, with a minimum of five people per group with lunch inclusions.
If you have kids with you, you can also try the forest zip line (325PhP), horseback riding (200PhP/hour). And if you plan to stay, they also have a bed and breakfast for P650 per head, minimum of five people in a group.

Day 2 – Macahambus Cave Visit and Whitewater River Rafting
Cagayan de Oro is dubbed as the Whitewater Rafting Capital of the Philippines.and its is a must thing to do while staying in City. There are 3-4 courses offer in whitewater rafting depending on the adventure tour provider you choose and costs roughly around 800 -1,200PhP per person. A life vest, helmet, safety instructions, and lunch is included for the rate. For visitors, the Beginner's Course is the best one to take, and an Advance Course for the more adventurous. You'll be experiencing a maximum of 3-4 hours of rapids of the Cagayan de Oro River where have your lunch in the middle or at the end of the course.
Day 3 –  Tsada Kagay-an Half Day City Tour and Pasalubong Center Visit
Apart from the great outdoors that Cagayan de Oro City has to offer, you can also try a half-day city tour of its historical sites and museum visits around the city. For a fee of 500PhP you can have a guided 4 hour tour of the city's center of trade and commerce in Cagayan de Oro, Plaza Divisoria, Freemasonry Centennial Marker, Gaston Park, St. Augustine Cathedral, and the Cagayan de Oro Museum to name a few. Before calling it a day, don't forget to visit the shopping malls and the best pasalubong centers in Cagayan de Oro. The best take-aways for home are the pineapple pies from homegrown Mercedes Breads and Cakes, and pastels, or sweet buns with custard fillings from VjANDEP.
If you're planning for your travel adventure in Cagayan de Oro, you might also like to check out list of cheap and budget-friendly accommodations or the best hotels near Laguindingan Airport while visiting the city.
Lisa Marie is a founding member and blogger of Filipino Homes. She is a digital marketing professional who works online from home. She is the travel writer, and digital creative behind  Pinay Travelista and the homemaker, and housewife-in-training behind Life & Some Sorts.