3 Timeless Facts That Explain Why You Need A Broker
Direct Buyers Only! Looks familiar, right? But to the buyer or seller with an open mind, the signpost is nothing more than a negative advertisement. Let's face it. Today's home buying process makes the presence of a broker an absolute necessity. Here's why.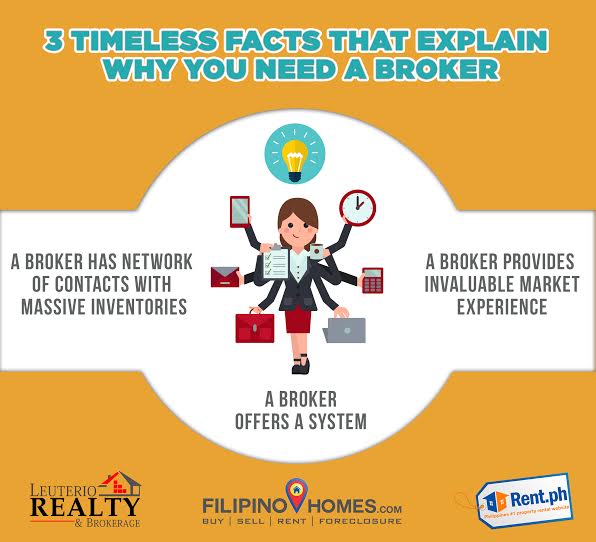 A Broker Offers A System
Choosing to sell your house all by yourself requires you to make endless phone calls, answer questions and make appointments. Do you get the picture? A real estate deal not only takes money but also takes away certain amount of your precious time. Time you may not have or you can't afford to lose. Time only an experienced professional can make use of to your advantage. On the other hand, buying a home for the first time can be very overwhelming. The complexity of the transaction and paperworks might give you a hard time to make the right decision. Mind you, this is likely one of the biggest purchases of your life. You don't want to lose your hard-earned cash, do you? Remember, a broker can help you Save YourSelf Time Energy Money.
A Broker Provides Invaluable Market Experience
Real estate is a tricky business. And if you are looking to buy a home, the purchase becomes an emotional decision. Thus, having a broker by your side ensures the deal is closed to your benefit. Undeniably, he or she knows more than the entrance and the exit of your neighborhood. Someone who is into real estate possesses updated details about what's happening in the marketplace. Do you need help to buy the right house at the best price and terms? Would you like to know how long the property has been on the market? Well, here comes the broker armed with insights you can't learn overnight.
A Broker Has Network of Contacts with Massive Inventories
Do you want to find a home or a buyer quickly? With a broker by your side, you will in no time. Here's the thing: real brokers network. They don't work like a one-man company. They understand that if they don't have what you need then someone else does. So, they connect to other brokers and real estate professionals to ensure a faster and reasonable deal. Does it mean you lose money when you work with them? Absolutely not! The amount of commission paid to get things done right and fast is nothing compared with when you shoulder the heartaches and headaches alone. Doing it cheap might turn out to be costly in the end. Keep in mind that the process isn't as simple as many people assume.
Some of you may still brainwash yourself with this "Direct Buyer Mentality". But one thing is certain. Taking the job of a broker is no easy. Potential buyers are likely to move on if you tend to be busy or don't respond quickly enough. So, if you're thinking about going it alone, be sure you're ready for a big time commitment and a hefty dose of guesswork.
Precy Jane Cabugao is a REALTORS®, a PRC and HLURB Registered Real Estate Professional, and a Founding Member of Filipino Homes. She works as an online marketing director, social media manager, digital marketing trainer and consultant for Leuterio Realty and Brokerage.