From House To A Happy Home: Tips On How To Have A Home
Empty. That's just what a house is actually, still and with no life. Even with beautiful doors, well-painted walls, exquisite windows, and elegant lights, these things do not guarantee a home where everyone is happy to live in. It entails more than just the most expensive kind of decors or the biggest bedrooms. It does not even based on the size of the house. In fact, these are just a huge plus when living at home.
A happy home is about people who live in it and who can make it into a vibrant and lively home. It is about people living together, being each other's support through thick and thin, and being able to instill values that become an advantage to the society.
There's nothing wrong when you want to live in a house. Well, literally, a house is built to live in. However, it is much better if you want to be able to spend your time in a home. Just make sure that you are able to place your things well and make your home, not just happy, but a well-organized sanctuary of peace and comfort.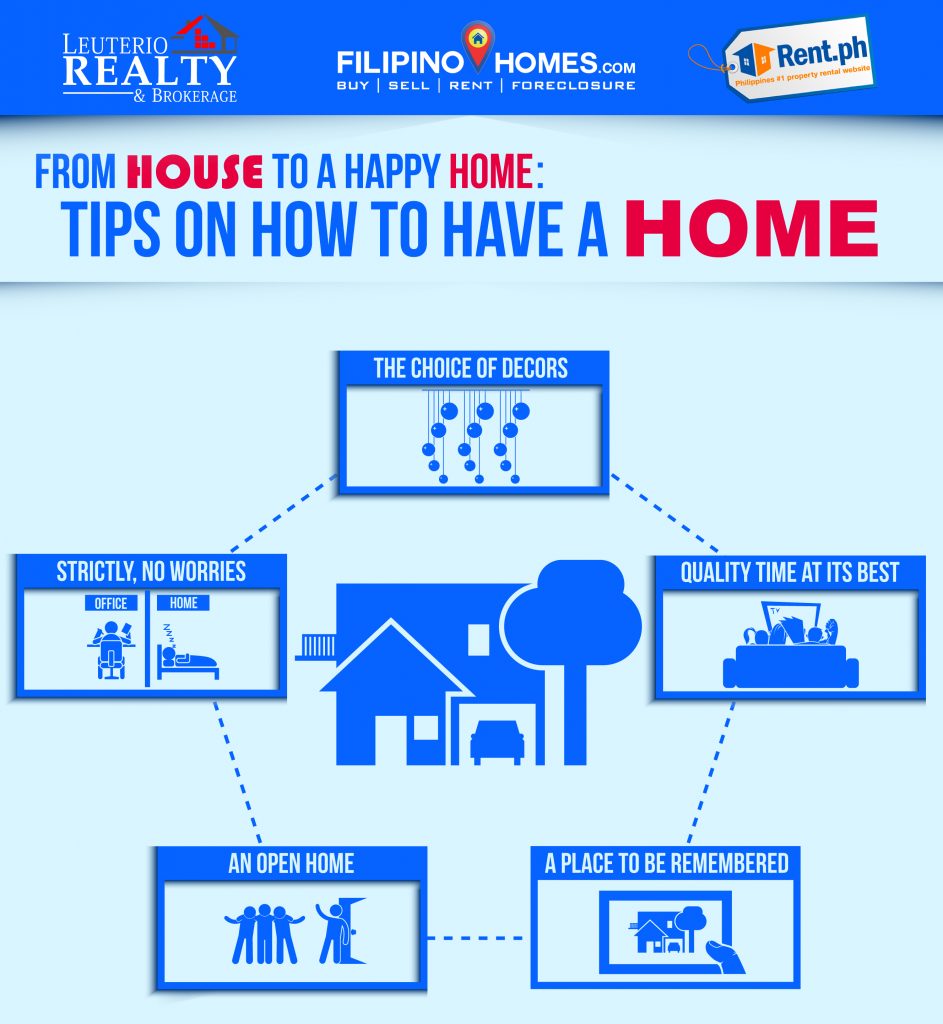 The choice of decors. Take time to do a home make-over. Look for home decors that will release out all the stress when you are at home. Not only will they make you feel more relaxed, they will also reflect who you are and what you are inclined to do. Wouldn't it be  great to be home and distress yourself after a hard day's work? Just by seeing your home with your great choice of decors will certainly be worth the time and money. It won't hurt that much.
Strictly, no worries. Although decors can bring out the elegance of your home, with or without them, your home should be a place where you can rest well. Don't let work, problems at work, or any negative vibe get inside. When things begin to get and ugly, and you have no choice but to talk about your problems, it is better to deal with them during bed time. But, as much as possible, think about your worries when you are about to leave your home.
Quality time at its best. Being at home means being worry-free. It means giving your family the quality time that they have ever dreamed of. Your home is the best place for effective communication. It is where your children can talk about their goals and plans about their lives. It is a place where you can discuss your plans for your family as well.
An open home. With what is going on right now, security and safety can't be compromised that's why some people do not risk on letting anybody else stay in their homes. However, inviting relatives and close friends who can share laughter and fun attracts more happiness making your house more beautiful and happier home to live.
A place to be remembered. Your home should not be lifeless. It should capture memories that can last a lifetime. Host parties, celebrate special occasions, do something stupid yet fun inside your home. The bottom line is to create lots of moments with people you love the most. The walls, vases, appliances, ceilings, lights, roofs, everything inside your home will be part of those memories making your home a place to be remembered.
Your home is like your best friend. It knows everything about you and all you have gone through. Make it a part of your life. Make your home a part of your family's life.
How about you? Do you have ideas on how to turn your house into a happy home?
Precy Jane Cabugao is a REALTORS®, a PRC and HLURB Registered Real Estate Professional, and a Founding Member of Filipino Homes. She works as an online marketing director, social media manager, digital marketing trainer and consultant for Leuterio Realty and Brokerage.