Living Inside Your Own Dream
Measuring success is subjected to every person's perception. For some people, success equates to landing a good-paying job or saving a significant amount of money in the bank. Sometimes, doing whatever he or she wants without anyone stopping them can be considered a success. Or perhaps, happily living together with your family in the house that you have longed dream to have can be one of the best forms of measuring how successful you have become.
Well luckily, dreams such as owning your own dream house can really become a reality most especially when it is done through determination, vision and strategy, effort, and patience. How is it done then?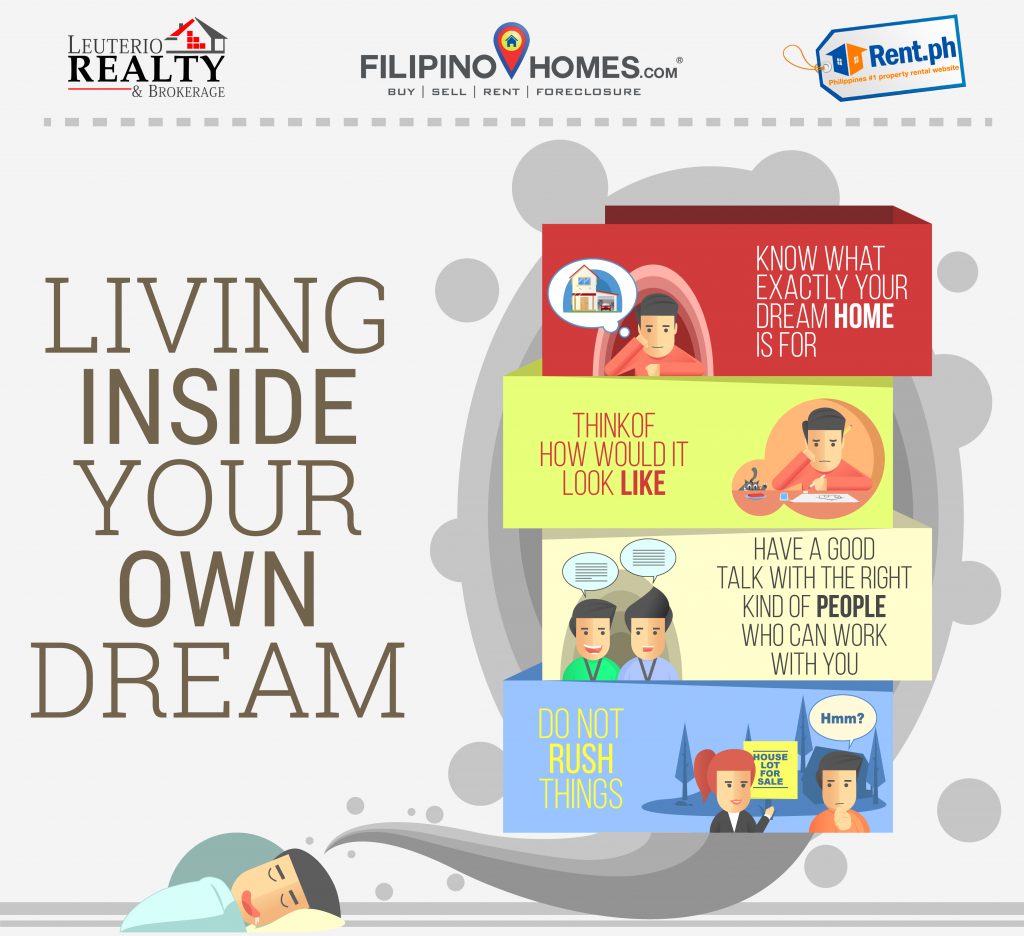 *Know what exactly your dream home is for. Nothing is built without a purpose so you better know what your house is for. You do not want to spend your money on building something you will not be able to use, right? Unless, you are the richest man in the world, and you do not know what to spend your money for. Otherwise, just think of the place where your future wife and children can be safe, secured, and happily satisfied and comfortable.
Furthermore, always remember that the concept of your dream home is neither the mansion that you see on famous TV series or movies, the most expensive house, nor the dream house that your mom or dad wants to have for you. It should be your own idea because you are the one who pays for it and lives in it. It is your dream that you are living in.
*Think of how would it look like. If possible, take a day off to think and write your thoughts of your future home. Picture out how your life will be when the house has already been built. Is the environment conducive for your family? Are you going to spend more money for your transportation going to work? Is the place far from school and other significant places like hospitals and police? Things like these.
Plan on its details to make sure that everyone who lives in it is safe and away from harm. You do not need to work on the technical aspects that much. Just think of those people who will be living with you and the people living around you.
*Have a good talk with the right kind of people who can work with you. It is better to consult a real estate agent who knows a lot about houses, but do not let them ever dictate or tempt you to buy their houses. Make sure that it is what you are looking for.
Let your agent picture out what you want for your house to look like. You can let your agent present different features of your possible dream house with corresponding prices. You do not want to be surprised with the actual price of your dream house, do you?
You can also attend and visit Open Houses that showcase different types of houses, or collect brochures and flyers of homes. This way, you have ample choices to choose from and the right amount of time to decide on what to do with your dream home.
*Do not rush things. Owning your dream house is considered to be a long-term goal. There is no need to rush, but you need to work beyond your comfort zone. You can not just sit everything out, and let the others do the work for you. You should be the first person who gets it smoothly going.
Moreover, work with the budget set in mind, but make sure that you have saved more than enough money for the house and for other costs. It is better prepared than not being prepared at all. You will not know when things may not go your way.
Needless to say, these are just a few thoughts on how to get your dream house going. And remember, success takes different shapes and forms, but being able to make your wishes and dreams come true can become one of the happiest moments of your life. Living inside your dream house is indeed satisfying.
So, have you thought of the house you have been wishing to have? Well, there is no better time to think for you and your family's future than now.
Precy Jane Cabugao is a REALTORS®, a PRC and HLURB Registered Real Estate Professional, and a Founding Member of Filipino Homes. She works as an online marketing director, social media manager, digital marketing trainer and consultant for Leuterio Realty and Brokerage.