3 Mindanao Cities in the 2016 Most Competitive Cities of the Philippines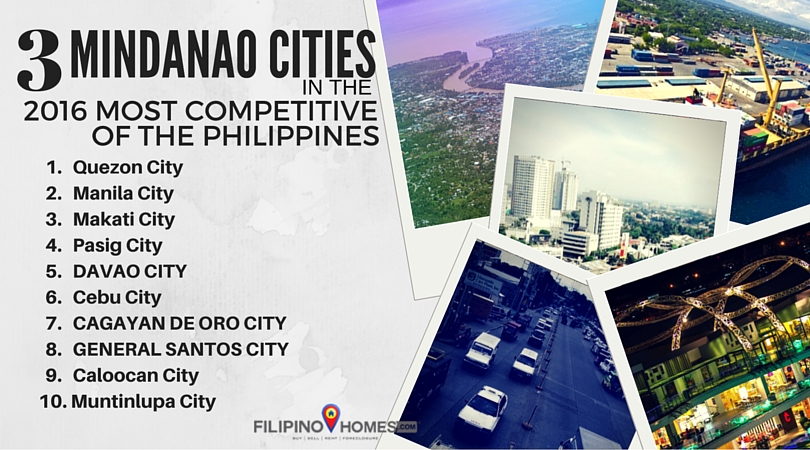 The National Competitiveness Council (NCC) has named the most competitive cities and municipalities during its 4th Regional Competitiveness Summits Council. The Cities and Municipalities Competitiveness Index was launched in 2013 with only 285 participating local government units (LGUs). This year, 1,389 LGUs participated to determine their performance in comparison with other cities/municipalities in terms of the 3 identified pillars: (1) Economic Dynamism; (2) Government Efficiency; and (3) Infrastructure.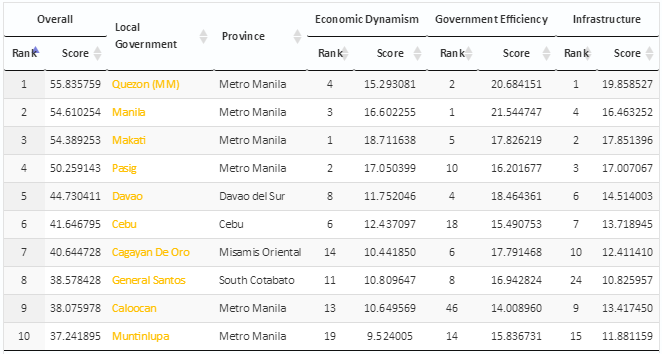 Three Mindanao cities made it to top 10 of overall most competitive Highly Urbanized Cities (HUC). Davao City (Region XI – Davao Region) is at #5 with a score of 44.730411. Cagayan de Oro City (Region X – Northern Mindanao) and General Santos City (Region XII – SOCCSKSARGEN) are at #7 and #8, respectively.
Davao City maintained its ranking as the fifth most competitive highly urbanized city from the 2015 list. It ranked fourth in government efficiency (economic governance score in the Local Governance Performance Management System and security) from being fifth last year and sixth in infrastructure (existing road network and health infrastructure) from a seventh in 2015. However, it slipped to eighth from being sixth in terms of economic dynamism (size and growth of the local economy and capacity to generate employment). These rankings show that the city remains an attractive business destination for investments.
The City of Golden Friendship in Northern Mindanao has also been consistently in the top 10 competitive cities in the country. It ranked sixth overall in 2015 and second in 2014. This year, Cagayan de Oro City has an overall ranking of seventh. It ranked thirteenth for economic dynamism, tenth in infrastructure, and sixth in government efficiency.  The local government's five-step business processing time for registration, licensing and permits averaging just over 51 minutes attracts investors to the city.
General Santos City
General Santos City in the province of South Cotabato is a "newcomer" in the top 10 list. It ranks eighth overall — eleventh in economic dynamism, eighth  in government efficiency, and twenty-fourth in terms of infrastructure. The city ranked eighteenth overall in 2015 and twelfth in 2014.  The expected upcoming investments in the region accordingly completes Mindanao's Growth Triangle.
With 3 urban areas from Mindanao making it to the top 10 competitive cities in the country means that Mindanao is emerging fast in terms of economic developments. According to top economist Gerardo P. Sicat, these major cities serve as magnets for Mindanao's economic heartland, collectively providing transport logistics and the industrial and commercial support to the growth of Mindanao's economy.
There is a very large room for growth in Mindanao. The island contributes only 14 percent of the nation's GDP (gross domestic product), while its population accounts for 21 percent of the national population. As the new administration of President Rodrigo Duterte promises to transform the  from being the "land of promise"  into the "land of the fulfillment," exciting times await Mindanao.
Lovette Jam is a founding member and blogger of Filipino Homes. She is a freelance digital media professional. With a Masters in Business Management degree and Hubspot certification on Inbound Marketing, she currently works as a social media manager, project manager, and digital consultant.
Lovette Jam is also the founder of Iligan Bloggers Society, Inc. She authors the travel blog Travel Jams and lifestyle blog Lovette Jam.