Tourist Destinations Near GenSan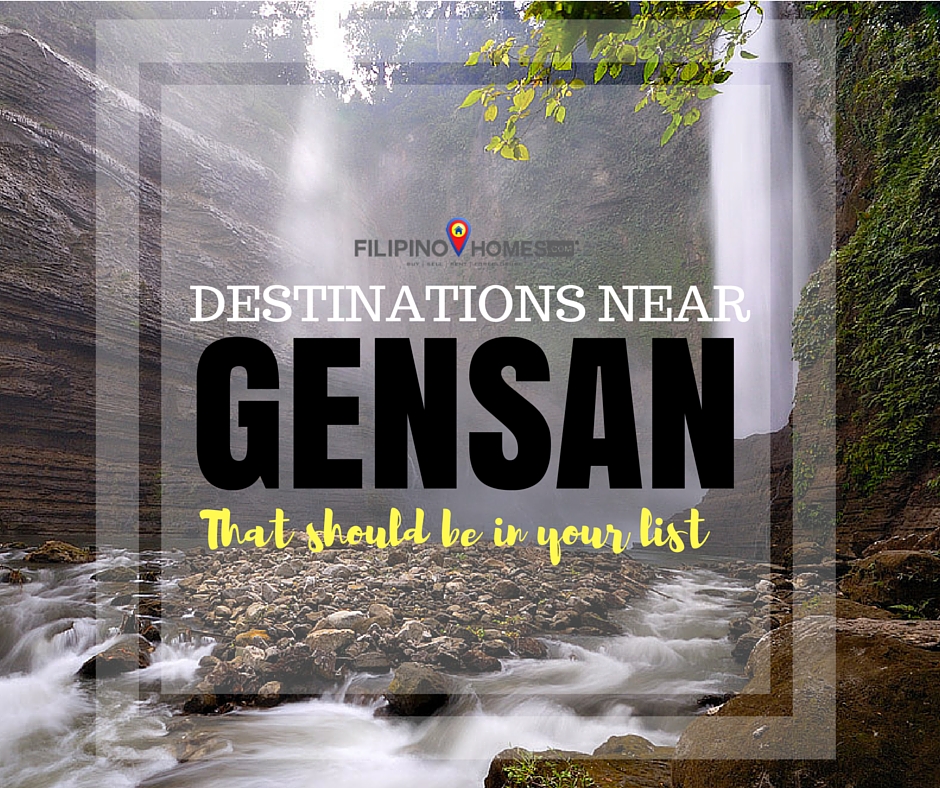 Aside from GenSan's wonderful tourist destinations, there are also some spots that are near the city which you might consider. If ever you happen to visit GenSan, or are a resident in GenSan who plans to have a short getaway over the weekend,you might want to give this destinations a try.
Since GenSan is a gateway to some neighbouring provinces, cities and municipalities, it is but right that you go on a side- trip with these destinations that are "tatak" SoCSKSSarGen (South Cotabato, Sultan Kudarat, Sarangani, GenSan).
The nearest province from the city is Sarangani Province. This is made famous by the boxing champ, Manny Pacquaio, but the place is more than that. It is an abode of startling aesthetics. No wonder its name "rhymes with beauty" as what Sarangan's (the people of Sarangani) hymn says so. Thirty- minute ride from the city, the most famous spot could be the Paragliding Flysite located at Safii Ranch between the borders of Barangays Seguil in GenSan and Tinoto in Maasim. Fly high and behold the breath- taking panoramic view of Sarangani Bay at their 5-8 minute ride with an expert tandem which costs P3, 000 ($63.64)*.
Right there in Maasim lies the Lemlunay Resort in Barangay Tinoto which is known for its infinity pool and marine bounty. You can go snorkelling, kayaking or banana boating at the resort. Experience diving and get acquainted to the wonders of the sea. The place also offers a lot of amenities such as air-conditioned or poolside rooms perfect for an overnight stay. They also have a bar and restaurant where you get to enjoy some of their bestselling cuisines. Conference rooms for seminars and workshops.
Another is Pangi River in Maitum,  its whooshing waters that make it more exciting for people who love white water tubing. Enjoy a 30- minute rapid ride on a rubber tire as you tumble through and mumble with its cold water.
Heading towards the opposite side are the white beaches of Gumasa, Glan.  They have fine white sands that we all love. People may compare it to that famous beach in the Visayas, but Gumasa beach has a beauty of its own. This has been Mindanao's best beaches and we're hoping that it will remain as beautiful as it is now.
Let's have more of Socsksargen with its zipline and 7 majestic waterfalls. Add to that a meal on a floating cottage plus, a lake tour! Yes, you can have all of those in Lake Sebu, South Cotabato! You can ride the zipline to have an up close view of the waterfalls as you pass each of the 7 waterfalls in Lake Sebu. The ziplines are  740-m and 460-m and the ride costs P250 ($5.30).
What more can one do in SOX? Well, consider nature- tripping in Kidapawan, North Cotabato's Lake Agco and Baras Bird Sanctuary in Tacurong, Sultan Kudarat.
Lake Agco is situated at the foot of Mt. Apo in Davao City. Its hot and boiling lake is what makes it interesting including its mud which they say is used for face spas.It is so hot that you can boil and cook an egg.
The Baras Bird Sanctuary, which was once a 15,000 sq.m peppercorn farm, is home of 20,000 migratory birds of various species which are thought coming from Japan and Korea. The place is owned by Mr. Rey Malana, and the sanctuary is supported and protected by the local government and declared as an eco- tourism spot in August 2002.
Truly, SocSKSarGen is a lair of beauty beyond imagination. In your next visit to General Santos City, take few more days to visit this neighboring wonders.
*Price may change without prior notice.
Charmaine Xy-Za Yape is a founding member and a blogger of Filipino Homes. She is also a PRC and HLURB Registered Real Estate Professional and a Licensed Financial and Investment Advisor. She is an International Realtor member. She is a Hubspot certified in Inbound Marketing. She is also the co-founder of Iligan Bloggers Society, Inc.