Waterfalling Butuan and Agusan
Butuan City is a home of history and a home of natural resources too just like the whole Mindanao. Since Mindanao has a big land area compared to the other archipelago in the Philippines, waterfalls are just every where. Butuan City and Agusan del Sur cradles a number of waterfalls in the area. A few were frequently visited by tourists and locals because it's that accessible.
Going to the falls, compared to going on caving, doesn't have a formal registration of visitors just yet. Unless you visit the tourism office and inform them about your intent to visit the waterfalls. For security reasons, if you are planning to visit these falls mentioned below, please make sure to register at the tourism office or better yet, get a professional tourist guide.
What to wear?
Wear comfortable clothes for a little trek and another good for swimming. You may bring extra clothes to change but since majority of this falls are not developed for swimming, there are no available changing areas for you.
What to bring?
You may bring food for snacks or lunch, but please take the trash with you as you leave the place. Always think of mother nature when you visit destinations like this. Also, keep a liter of water with you to hydrate. It might be hot or humid during the trek and swim.
Here's a list of the accessible waterfalls in Butuan City and Agusan del Sur;
Tagnote Falls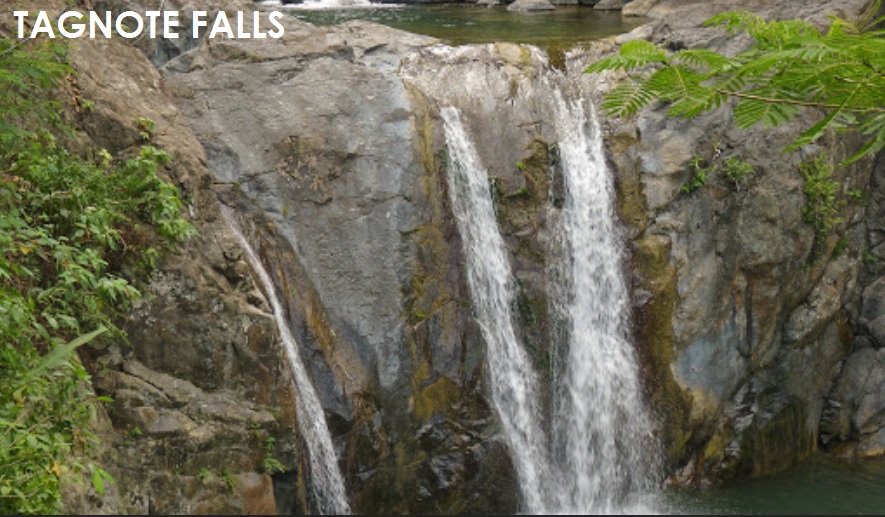 Tagnote Falls is located at Sitio Tagnote, Brgy San Anotnio, Remedios T. Romualdez (RTR). These spectacular falls is just a few minutes away from downtown Butuan. The falls is ideal for summer splash because of its cold water. It has 2 basins that acts as natural pool that everyone loves. How to get there? You need to take a jeepney from Butuan City (25.00 pesos) to RTR, then take a habal-habal or single motorcycle to Tagnote Falls since its 8.7 km away from the RTR town (30.00 pesos).
Since it has been developed as a touristy destination, it now has a minimal entrance fee and they have available open cottages for rent. You may contact VHong (09123639560) of MEEDMO office, Municipality of RTR is you need more information on how to get there.
Dagangdang Falls
Dagangdang falls is located at Brgy. Sumile Butuan City. It's one of the most visited waterfalls in Butuan, but found very few information online.
Masapya Falls @ Bunawan EcoPark
Masapya Falls is located at Brgy. Bunawan Agusan del Sur, hundred meters away from where Lolong used to be. Some described it as small version of Maria Cristina Falls in Iligan City, it also has a rock in the middle giving it a look like that of Iligan City's Maria Cristina Falls.
Bugsukan Falls
Bugsukan falls is a magneficient tiered waterfalls hidden in the mountains of Butuan. Located at Brgy. Bugsukan, the falls is known for its crystla clear and clean waters. The tiers varies from nine (9) meters long, seven (7) meters long , two (2) meters long and four (4) meters wide. To get there, you need to take the habal-habal ride (motorcycle). The water from the falls is a source of irrigation for some rice fields in the city. 
Bega Falls
Bega Falls is located at Prosperidad, Agusan del Sur. According to locals there's a mystical story behind Bega Falls. According to them there's a beautiful lady fairy who seduces men and lures them to the falls. Those who were caught by the lady fairy were never found again. The falls got its name from a Visayan word "biga" which means flirt.
Tugonon Falls
Tugonon Falls is located in San Lorenzo, Prosperidad. Its name was derived from the word "tugon" which means remind. It cradles towering trees and rare orchids. 
And always remember, "Take nothing but pictures, Leave nothing but footprints". Let us all be responsible in our travels.
Xy-Za Yape is a founding member and a blogger of Filipino Homes. She is also a PRC and HLURB Registered Real Estate Professional and a Licensed Financial and Investment Advisor. She is an International Realtor member. She is a Hubspot certified in Inbound Marketing. She is also the co-founder of Iligan Bloggers Society, Inc.