5 Tips to Finding the Best Location for First-Time Homebuyers
Buying your first house is often one of the most important decisions we make in our lives, but getting ready to buy your first house can be a little intimidating.
If you are ready to start your journey to homeownership, here are some tips Filipino Homes Founder and CEO Anthony Leuterio shared during the 2021 Real Estate Conference hosted by The Global Filipino Investors.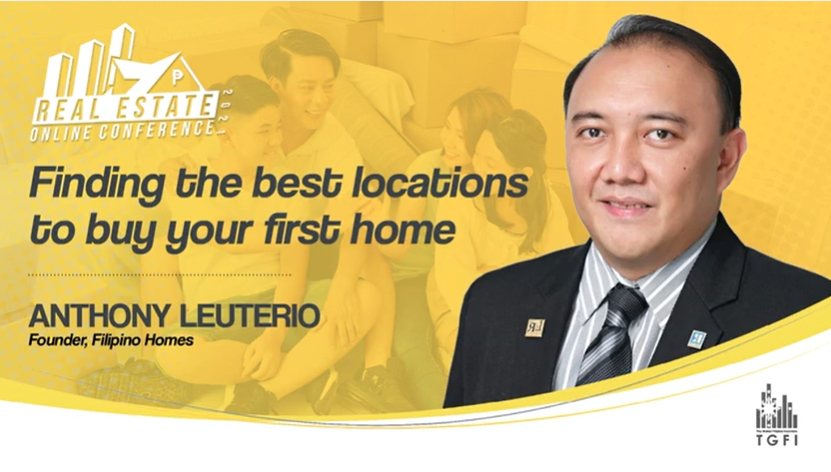 Understanding your purpose for buying a home:
Before buying a home, you should know your purpose. There are three types of buyers:
Investors – those who buy a property and rent it out
Flippers – homebuyers who purchase a property and sell it out after some time for a significantly higher cost
End-users – those who buy a property and use it long-term
Leuterio shared 5 tips for first-time homebuyers to find the best location for your :
1. Find a good real estate agent
According to Leuterio, finding a good real estate agent is the most important step to ensure that the house you will purchase fits your needs and preferences.
He advises that first-time homebuyers should:
Check the agent's background if he/she belongs to a trusted real estate company
Evaluate their knowledge and experience in the local real estate market
Examine the agent's track record
Find out if they offer excellent customer service
Make sure they have knowledge in rentals in case you decide to rent out the property
2. Find a location that would be convenient for daily commutes
A good investment property should be in an ideal location. This means a buyer should check:
Availability of amenities within the neighborhood, such as malls, grocery stores, gyms, etc.
Access to transportation
Time of commute to work or school
Proximity to school and hospital
Leuterio advised property investors to check the business establishments surrounding the area, emphasizing that these are the things that will contribute to the appreciation of your property value, especially when they want to sell or rent it out.
3. Check the background of developers
Leuterio suggested a list of questions to answer when assessing a developer's background and track record:
Do they have previously completed projects?
Do they have working phone numbers that are publicly available?
What are their company recognitions or awards?
Do they have a physical office?
4. Choose quarantine-friendly home designs
As people continue to navigate the "new normal" lifestyle, the demand for smarter, future-proof is increasing. A good quarantine-friendly home design has space for a home office, gym equipment, outdoor space, and a quality air system.
READ:

Filipino Homes Plus to introduce homes that are designed for new normal living
5. Check the terms of payments
It is crucial to pre-qualify yourself as a buyer. Make sure that you are financially ready to buy the property that they want.
It won't make sense if you find the "perfect property" for your needs if you can't afford to keep up with the terms of payments.
---
Here's the link to Day 1 of the Real Estate Online Conference 2021: