Blast Off To Cebu's Present and Future
Cebu stands firm and continues to thrive economically with numerous, big projects and investments. Whether they come from prominent company names or small yet flourishing business players, Cebu's economy remains to be much attractive to potential investors – many thanks to the island's vast feasible lands and the local government that help in the success of every business. Here is a glimpse of a few major rising projects that will soon become Cebu's pride and joy.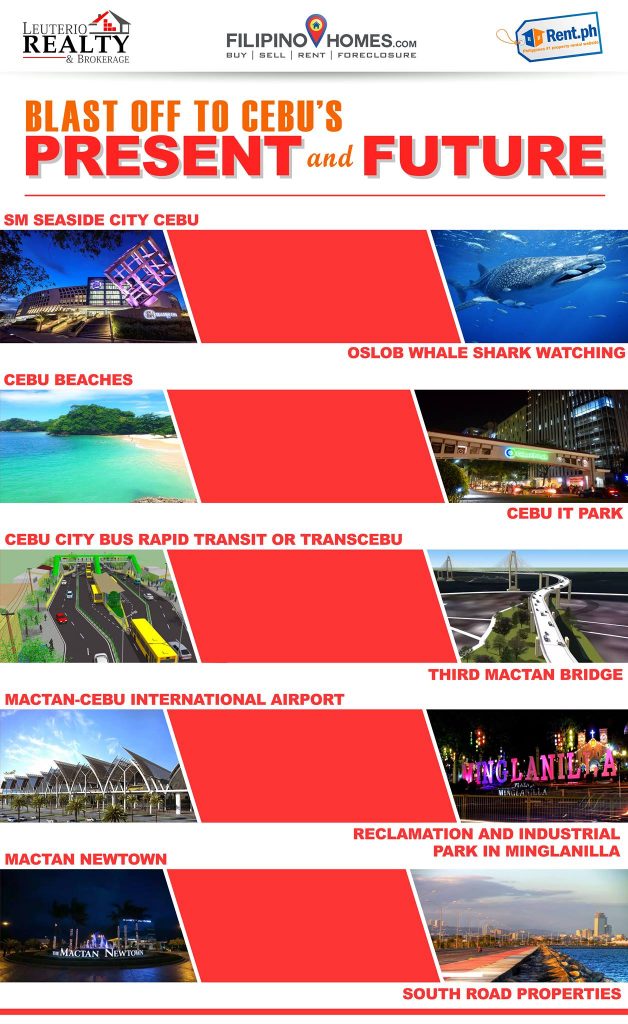 SM Seaside City Cebu
First on the list that will surely make Cebu a top class tourist destination. The mall sits the middle of South Road Properties (SRP) a reclaimed land area that SM Prime Holdings plans on turning into a community with residential towers, hotels, commercial buildings, a convention and exhibition center and church. SM Seaside City Cebu is a 4-level, circular-shaped, world class retail mall with multiple anchors. The mall revolutionize the malling experience not only in Cebu but in the whole country's south. A 150 meters iconic viewing tower will be an attraction in itself, offering sensational panoramic views of the entire city of Cebu while serving as a new landmark for the City. What are you looking forward to seeing the most of SM Seaside City Cebu?
Oslob Whale Shark Watching
Whale shark is the biggest shark and the largest fish in the world but they are completely safe for humans. It's simple – sharks are lured to the coast. Swimming with whale sharks is a dream of many ocean lovers and a once in a lifetime memorable experience. Huge slowly and safety animals go as giant barge a few meters from you. It's like a fairy tale, isn't it? Breathing stops, primal fear and a joy of capture your mind.
Cebu Beaches
Cebu is considered to be one of the precious gems in the Philippines and is known to be one of the country's top tourist destinations. Not far from the urbanized city, lies Cebu's awesome white-sand beaches, crystal clear water, beautiful sandbar and majestic diving spots for people looking for leisurely escape in tropical paradise. Breathtaking sights of small islands to stir your curiosity. This untouched place is so soothing to the soul, made even more special. Tourists, backpackers and beach bummers are perpetually searching for the perfect beach to loaf around. With those in mind, Cebu has all the sun, sea, sand and sky that you want.
Cebu IT Park
Asiatown IT Park re-named Cebu I.T. Park – strengthening the emphasis on the Queen City of the South which has today become one of the top BPO destinations globally. It is a 27-hectare I.T. economic zone and a modern trading hub with global gateway. A home to over a hundred I.T. companies and related services, Cebu I.T. Park is host to over 70 percent of Cebu's business process outsourcing (BPO) industry. Cebu I.T. Park now vibrantly brings together top-class talent and technology in a community. It also strives to preserve its beautiful environment through well-maintained landscape and greenery to complement the high-rise infrastructure of its global locators. The spirit of convergence in Cebu I.T. Park extends to every worker who enjoys Cebu's enviable quality of life contributing to lesser stress and higher rates of productivity and efficiency from among its topnotch talents.
It has become a lifestyle destination in the city which integrates dining, recreation, wellness and retail outlets widely accessible to the employees inside the park. It is near shopping centers, residential subdivisions, hotels, learning institutions, golf courses, dining and entertainment options. Cebu IT Park is one of the two unique districts of Cebu Park District.  Along with Cebu Business Park, it is the address of choice for multinationals and industry leaders open to prime residential, business and commercial spaces of mixed-use hub.
Cebu City Bus Rapid Transit or TransCebu
Heavy traffic is a nightmare. This is the reason why the Cebu City government has come up with the 10.6 billion Cebu City BRT project to lessen the traffic problems. The mass transit system for Cebu City, the first operational bus rapid transit project in the Philippines and is currently in the final phase of design review with procurement. Construction will start 3rd or 4th quarter of year 2016 and expected completion will be on 2018 of 4th quarter. This is design to demonstrate that BRT can provide more efficient, reliable, fast, safe and climate-friendly transport system. The road project is expected to carry 330,000 passengers every day which will produce 33 stations with 176 buses along the 16 kms of stretch from Talisay City, Cebu City, Mandaue City to Lapu-lapu City. This also covers the SRP and Mactan-Cebu International Airport (MCIA). Well, no more better-late-than-never excuses then.
Third Mactan Bridge
From roads to bridges, a third Mactan Bridge will soon rise to decongest and ease the burden of traffic in the two existing bridges going to Mactan. The new bridge will construct and connect Barangay Pilipog in Cordova and Shell Island in Cebu City. It is the MPIC's first bridge project outside Metro Manila. MPIC has interests in water utilities, toll roads, electricity distribution, healthcare and light rail. The third bridge project includes the construction of the main bridge structure, viaduct, causeway, roadway, and toll facilities. Construction is targets sometimes in 2017 and will definitely take place by 2020. So Cebuanos will certainly become closer than ever.
Mactan-Cebu International Airport
How do you welcome tourists from all over the world? Welcome them with an awesome airport. It is high time that our own airport to be upgraded to a world-class level. MCIA will be made into the first resort airport, not only in the Philippines, but in the world. One that something Filipinos could be proud of. The four-year project consists of newly constructed terminals, with passenger carrying capacity from 4.5M to 12.5-13M a year,  at least one hundred check-in counters, and new international connections of Cebu to the World as of July 2016 and a resort-theme mall where visitors and balikbayans can hangout. This is definitely exciting!
Reclamation And Industrial Park in Minglanilla
Not much is known about the town of Minglanilla in the southern part of Cebu, but a huge project is cast to see the potential of the town. A 100-hectare land project in Barangays Tulay and Calajo-an will be the site for the reclamation and industrial park. Minglanilla Industrial Park is expected to address the current shortage of ecozone in the province. It will be constructed to give more than 100,000 working opportunities for the people in Minglanilla. There will also be more than 50 investors, both local and foreign, in the field of semiconductor industries to set up their respective businesses in the place. Another thing to watch out for!
Mactan Newtown
The Mactan Newtown is the first major township development with its own beach outside Metro Manila situated in Lapu-Lapu City, Cebu. This rapidly growing mega community combines top-grade office sites, first-class commercial strips, upscale hotels in one secured and enclosed area, and a reputable academic institution in one premiere beach setting supervised by LASSO and its own exclusive, world-class beach club at the 's township's beachfront and sports facilities. Boasting a redefined living experience in a township masterpiece, and condomium lifestyle highlighted by the spectacular views of the historic Mactan Shrine, Magellan Bay, and the Hilutungan Channel. It is the perfect combination between island and city living and is the first of its kind in the country.
South Road Properties
The SRP is located on the east coast of cosmopolitan Cebu City, capital of Cebu Province. Cebu, where the shimmer of sand, sea and sky is rivaled only by the brilliance of its illustrious history and rich culture, the intensity of its talented and hospitable people. The SRP is envisioned as a premier lifestyle destination in the Southern Philippines. As a mixed-use development, the SRP will host retail and commercial establishments, dining and entertainment outlets, upscale retirement facilities, midrise residential condominium buildings, office blocks, a hospital, the post-graduate campus of the University of the Philippines and tourism-oriented facilities. The SRP holds a definitive allure and is readily attractive – it is fully integrated with its natural environment, designed to meld with, enhance and optimize the advantage of being so close to the natural elements. Residents, guests, visitors will be awed by the expanse of greenscapes that is the anchor element of the SRP. Planned parks, open spaces and tree-lined sidewalks will make the site most enticing for those seeking to live life. An added attraction of the SRP is its water features. The sunrise of the Bohol Strait is sure to inspire and captivate. Other water features are being planned. The SRP is set to become another preferred destination in Cebu, complementing other sites within the island and province that together make it a major tourist destination of the Philippines.
 The future of Cebu City is rooted in the success of the South Road Properties. With its efficient systems, state-of-the-art estate facilities and services and world-class standards, the SRP is poised to be a true masterpiece. Indeed, a fitting legacy to the Philippines and to the world.
Come to the SRP and live life . . . like never before.
The list can go on forever, but Cebu has become one of the best places for anyone to invest in. Cebu offers a wide range of facilities that cater to any need for a business to succeed and flourish. People? Workforce? Tourism? Education? BPO and Export Industry? International and Local companies and institutions? Seaport and Airport? Transportation? What else can anyone look for? Name them and Cebu has them. Definitely, it starts here!
Sources:
http://www.smseasidecity.net/south-road-properties-srp-cebu
http://www.cebuitpark.com/about-park/project-brief
http://themactannewtown.com.ph/