Cebu Residential Property Market Report [1H 2019] and What This Means For You
Jones Lang LaSalle IP, Inc (JLL), the Philippines' leading real estate and investment management firm, has released the Philippine Property Market Report for the first half of 2019. The report highlights key movements and updates in the office, residential, retail and hospitality sectors of the real estate market the country. This blog post focuses on the state of the residential property market in Metro Cebu, covering Cebu City, Mandaue City, and Lapu-Lapu City.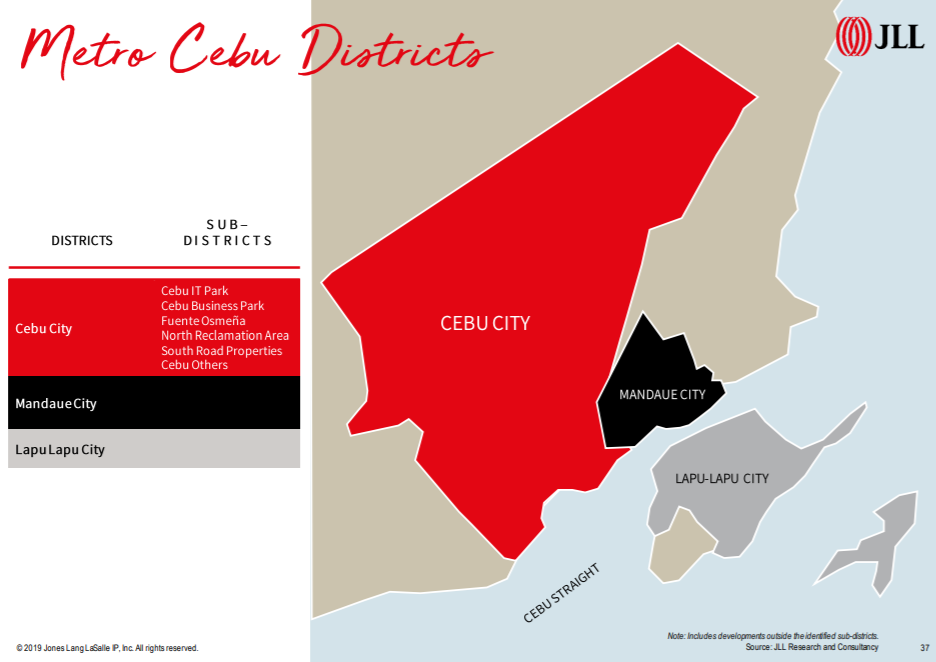 Residential Condominium Property Market – Cebu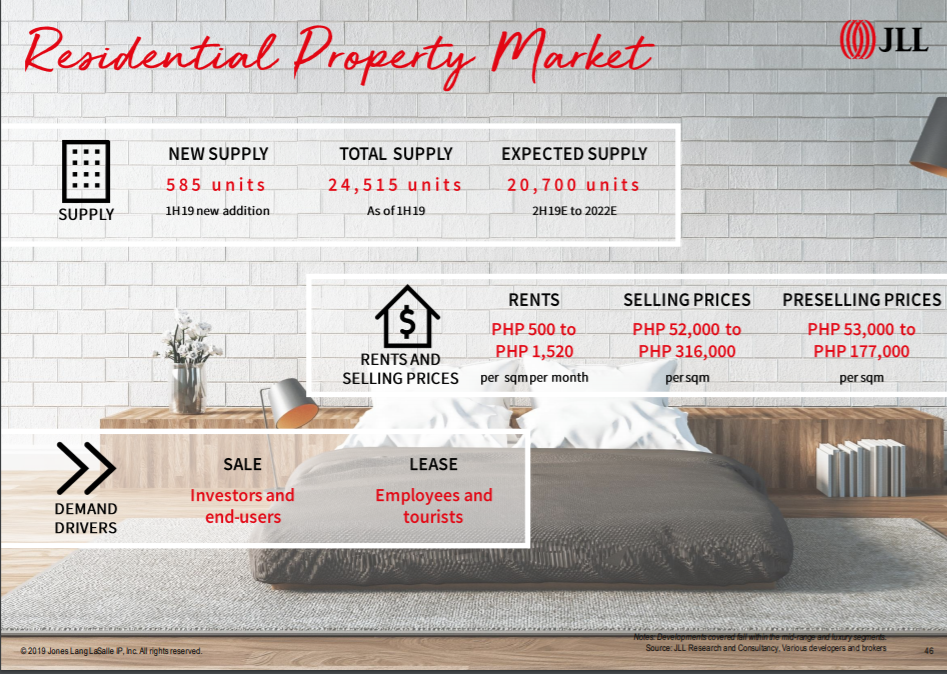 Supply
The completion of 585 residential units coming from Cebu City and Lapu-Lapu City during the first half of 2019 brings the total supply in Metro Cebu to 24,515 units. The additional supply was brought about by the completion of 32 Sanson – Buri, Brentwood by PrimaryHomes, Inc. and Reef Residences by Landcaster Estate Ventures, Inc. This is expected to pick up by the second half of the year. Succeeding years will see a notable contribution coming from Mandaue City.

In terms of market share, existing and future supply is heavily dominated by Cebu City (75% existing; 63% future supply) due to the relatively more urbanized status of the district over other cities in Metro Cebu. However, future supply sees growth in Mandaue City, primarily due to the completion of developments in Mandani Bay, from 10% market share as of the first half of 2019 to 28% market share by the end of 2022.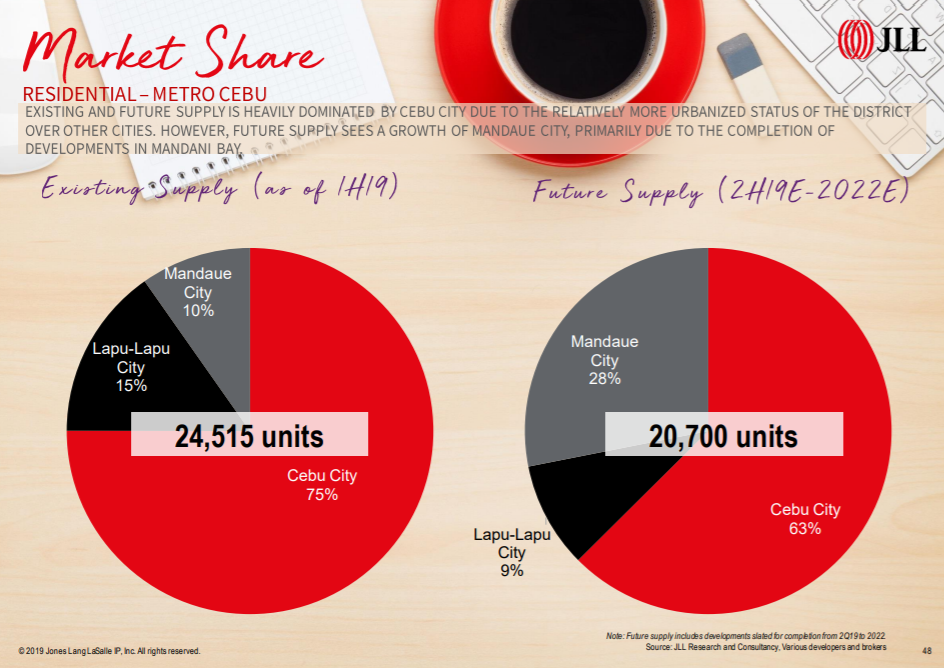 Demand
The sales rate of existing developments in Metro Cebu is relatively at a positive note, with Mandaue City having no available units for sale due to limited supply. Cebu City has a 99.5% sales rate; while Lapu-Lapu City has a 99% sales rate.
Mandaue City poses the highest sales rate of upcoming developments (99%), mainly driven by the performance of the launched residential towers in Mandani Bay, where all four towers are already sold out. Cebu City has a 94% sales rate of future projects, while Lapu-Lapu City has 82%.
Demand Drivers
The leasing market for upper mid to luxury developments in the Cities of Cebu and Mandaue is primarily composed of employees. Employees in Cebu City are typically concentrated within Cebu Business Park District. On the other hand, employees in Mandaue City are typically working in various industrial companies. Meanwhile, the leasing market in Lapu-Lapu City is mainly driven by local and foreign tourists who lease out units for as short as a day and as long as several months.
The sale market in Metro Cebu, in general, is heavily dominated by local and foreign investors. They are commonly found in Cebu City and Mandaue City, wherein they either enter their units in the leasing market once the unit is ready for turnover or wait for capital appreciation and flip their properties. End users are also present in the selling market in Metro Cebu. In Lapu-Lapu City, however, some buyers use their units as a vacation house, and have these either leased out or just maintained when they are not occupying the unit.
Rent and Selling Prices
Cebu City commands the highest rents (ranging from Php500 to Php 1,520 per sqm per month) on the back of the stronger demand coming from the leasing market found in the area. On the other hand, hotel-resort developments follow after due to the amenities that come with renting a unit. The average rental rate in Lapu-Lapu City ranges from Php870 to Php1,090 per sqm per month; and Php500 to Php910 per sqm per month in Mandaue City.
For existing developments, average selling prices range from Php52,000 to Php316,000 per square meter. For future supply, the average selling prices range from Php53,000 to Php177,000 per square meter. Cebu City commands the highest prices in Metro Cebu, both for existing (Php85,000 to Php316,000 per sqm) and future developments (Php73,000 to Php177,000 per sqm), mainly due to the presence of Ayala Land Premier developments in the city.
---
What This Means For You
JLL's comprehensive research of the property market in Metro Cebu for 1H2019 confirms that the state of the Philippine real estate industry remains dynamic and continues to be bullish.
With the boom in business and tourism in Cebu, it is expected that more investments will pour in for the leasing market, mainly short-term lease for Lapu-Lapu City and long-term leases for the Cities of Cebu and Mandaue. If you are looking for opportunities to increase your passive income, it is a good time to invest in a condominium. Talk to a professional real estate service provider.
Related Articles
Learn more about property investing. Read more:
Full report: https://www.jll.com.ph/en/trends-and-insights/research/1h19-philippine-property-market-overview
---
Lovette Jam is a founding member and blogger of Filipino Homes. She is a freelance digital media professional. With a Masters in Business Management degree and Hubspot certification on Inbound Marketing, she currently works as a social media manager, project manager, and digital consultant.
Lovette Jam is also the founder of Iligan Bloggers Society, Inc. She authors the travel blog Travel Jams and lifestyle blog Lovette Jam.