General Santos Upcoming Real Estate Developments
Pre-selling subdivision projects in Gensan
One of the up-and-coming cities of the Philippines, General Santos, or " GenSan " as locals refer to call it, is looking beyond the tuna industry to be more competitive. In anticipation of the Association of Southeast Asian Nations (ASEAN) Economic Integration, Mayor Ronnel C. Rivera urged local investors to consider exploring the city's agro-industrial potentials during his speech at the 16th National Tuna Congress held last September 4-5, 2014. With that, the long term economic directions of the city has been mapped and the city's vision is that by 2030, it's Home to Champions as its youth's talents will be at par with global standards and as "Globally Competitive and Livable City".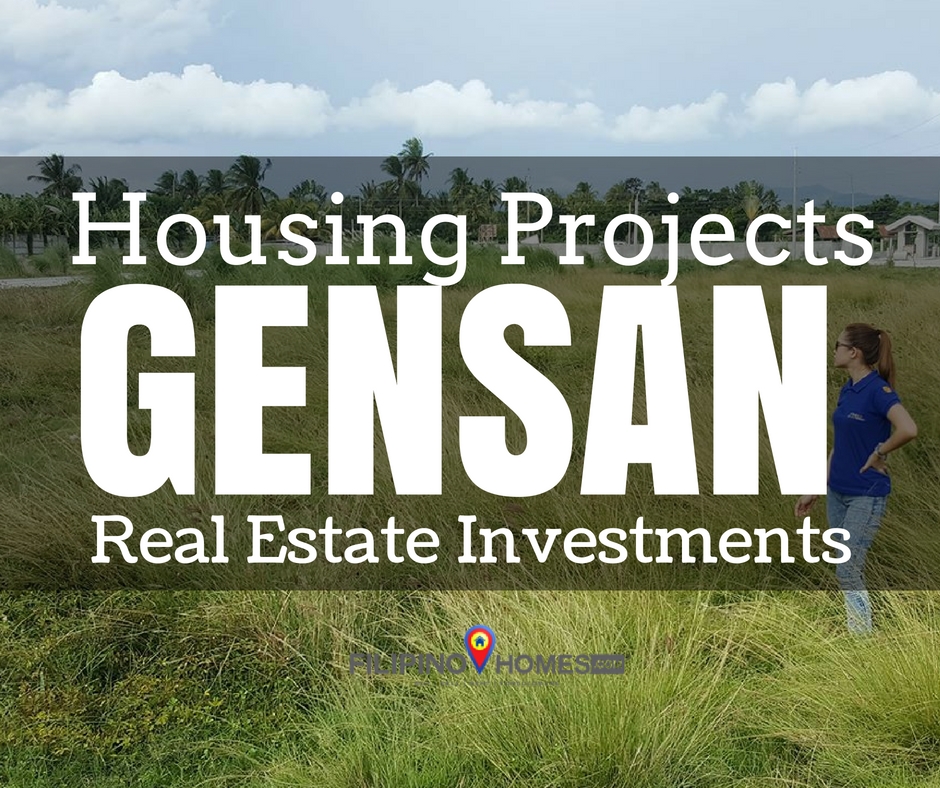 There are a lot of developments going on in the city and we are expecting more people migrating and moving to General Santos for good. If you are renting in Gensan or you have plans moving to General Santos City, you may consider investing in a home you can call your own. Most specially to our overseas Filipino workers all over the world.  This projects are currently pre-selling. Pre-selling stage of a project is usually the cheapest price and the best time to buy.
Here are some of the projects in Gensan that are currently pre-selling:
AganLand Metro

Location: Aradaza St., Lagao, General Santos City
Aganland Metro is a development by Agan Land Corporation, a small low cost and socialized housing developer from Koronadal City (Mindanao, Philippines). The company has grown to be the leading and most active Real Estate Developer in SOCKSKARGEN area. To learn more about the company and their projects you can visit their website here.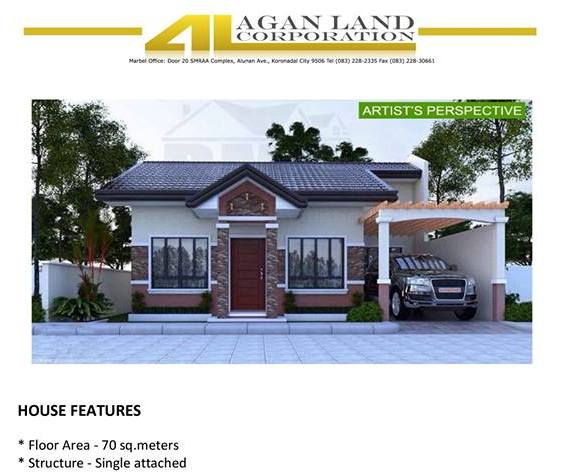 Landmarks:
SOCSARGEN Hospital
KCC, Veranza & Robinson's Malls
Near Notre Dame University
Lumina General Santos
Location: Conel Road, Brgy. San Isidro, General Santos City
Lumina is now in the "Tuna Capital of the Philippines." Lumina General Santos, located at Barangay San Isidro, gives a hefty boost on the ongoing real estate developments in the area by offering affordable and easy-to-own homes in a dynamic community complete with features such as covered basketball court, mini gardens and playground, and space for future commercial areas. Developed by Bria Homes Incorporated, a sister company of Vista Land. 
Landmarks:
Peter and Paul Parish
Notre Dame University, Mindanao State University, SPED-San Isidro, Notre Dame Slenna College
Elizabeth Hospital, General Santos Doctors Hospital, General Santos District Hospital
KCC Mall, SM City, Robinson's mall
Lagao Market
Lessandra Homes GenSan
Location:NLSA Road, San Isidro, General Santos City
Lessandra Homes General Santos is an economic development of Camella Homes a Vista Land company. It is a gated community that offers affordable two-storey townhouse units. The community has exclusivity and privacy, well-crafted themed community and accessible to the cities best landmarks and establishments. 
Landmarks:
Lagao Church, St Michael Parish, Good Shepherd
KCC Mall, Robinsons Mall, Gaisano Mall
Mary's Hospital, Socksargen Hospital
Bus Terminal
Notre Dame Sienna, Quantum, Notre Dame -Main, Hope Academy
Lagao Market, Purok Malakas Market, Central Market
 Bloomfields by Robinson's Homes
Location: Along the National Highway, General Santos City
Bloomfields General Santos offers 745 residential lots with a typical lot cut ranging from 216 to 486 sqm. In order to ensure small traffic and comfortable spaces, Bloomfields General Santos limits the subdivision's construction density to just 24 lots per hectare. They started selling since 2014. They still have available lots in a new phase for pre-selling. 
Landmarks:
Mindanao Polytechnic University, MSU High School Campus, Stratford International School, GenSan City High School, Mindanao State University
San Antonio de Padua Church
Mindanao Medical Center, St. Elizabeth Hospital
Mega 1 Shopping Center, SM Mall, Gaisano Mal, KCC Mall, Robinsons Place
5. NORFOLK PINE SUBDIVISION  by Richmond Land Innovations Incorporated
Location: Brgy. Sinawal, Circumferential Road, General Santos City
Experience the breath-taking full view of Sarangani Bay. Enjoy watching paraglides overheading the project site. A Combination of convenience living in the City and the comfort of a Woodland Community. Live Closer to Nature. In an Exclusive Community
6. Excellent Living Residences
Location: Brgy. Sinawal, Apopong General Santos City
EXCELLENT LIVING RESIDENCES will be your next home address in General Santos City. Located in Brgy. Sinawal, a walking distance in New Society Public Market & New Society Schools both Elementary & Secondary. VERY ACCESSIBLE to public transportation such as Tricycles, Jeepneys, Motor, Taxi. Access road has already developed community. Reside now to this exclusive & gated subdivision in Gensan.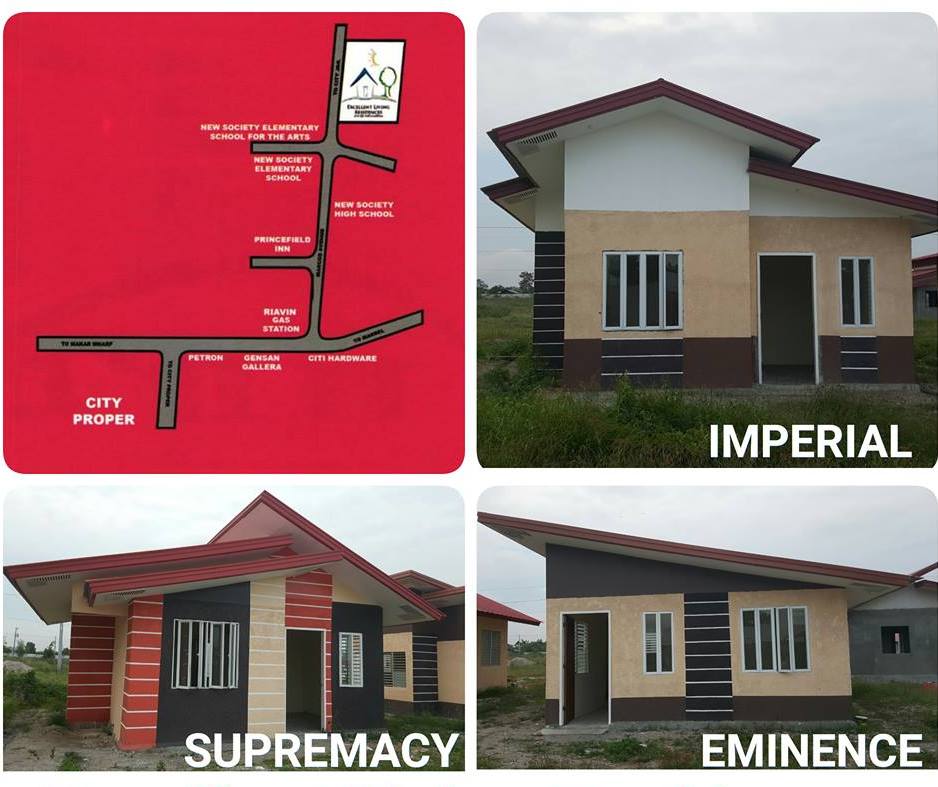 7. Camella Cerritos Gensan
Location: NLSA Road, San Isidro, General Santos City
Carribean themed community , the Camella Cerritos Gensan is a prime development of Camella Homes in General Santos City. The project offers 3 series of designs the Camella Series, Grand Series and Jewel Series.
Landmarks:
Near schools like General Santos SPED Centers, Mindanao State University, Hope Christian School, Notre Dame of Dadiangas University and Holy Trinity College.
Near hospitals like Gensan Doctor's Hospital, St. Mary's Hospital and Sockskargen Country Hospital
Near churches like St. Peter and Paul Parish Church, Our Lady of Peace and Good Voyage Parish and St. Michael the Archangel Parish.
Near Malls like Gaisano Mall, Gensan Public and Malakas Market,  SM Gensan, KCC Mall, Veranza Mall and Robinsons Mall.
8. Greenfield Residences Lot only Packages
Location: National Hiway, Brgy Lagao, Gensan City
Greenfield residences is one of the newest developments in General Santos City. It's a lot only project by 7BS Realty Development Corporation.
9. Sora Residences
Location:
Sora Residences is an upscale residential community located along circumferential road in General Santos City. It is a community where pleasure, convenience and security are served at its best. Indulge sophisticated creation and the excellence of nature in one perfect harmony. A superior quality living spaces that transform into a serene sanctuary. Pioneering residential project of Grand County Builders and Development Corporation that aims in building dreams into reality. A community where sophistication, pleasure, convenience and security are served at its finest. 
Filipino Homes has a service office in Gensan. Visit our office for a guided real estate purchase. To find legitimate real estate agents and brokers in Gensan click here.
Charmaine Xy-Za Yape is a founding member and a blogger of Filipino Homes. She is also a PRC and HLURB Registered Real Estate Professional and a Licensed Financial and Investment Advisor. She is an International Realtor member. She is a Hubspot certified in Inbound Marketing. She is also the co-founder of Iligan Bloggers Society, Inc.