How to Apply for Renewal of Registration of Real Estate Salesperson (DHSUD)
The Department of Human Settlements and Urban Development (DHSUD), formerly called Housing and Land Use Regulatory Board (HLURB), has issued a set of revised implementing rules and regulations (IRRs) for Presidential Decree 957 in efforts to promote safe and legitimate real estate transactions in the Philippines. Under PD 957 as amended, is empowered to register real estate salesmen dealing in condominiums, farm lots, memorial parks, and subdivision projects.
Brokers and salespeople are mandated to get DHSUD accreditation or license before they can engage in Philippine real estate services.
No real estate broker or salesman shall engage in the business of selling subdivision lots or condominium units unless he has registered himself with the Authority in accordance with the provisions of Sections 11 & 12 of Presidential Decree No. 957 and Sections 13, 14, and 15 of Rule V of Implementing Rules and Regulations as Amended and Other Related Laws and Regulations of the HLURB.

Source: DHSUD website
If you are under the license of a real estate broker selling projects from developers then you are required to register with DHSUD too.
In November 2020, DHSUD has started to accommodate annual renewal for registration of real estate brokers and salespersons.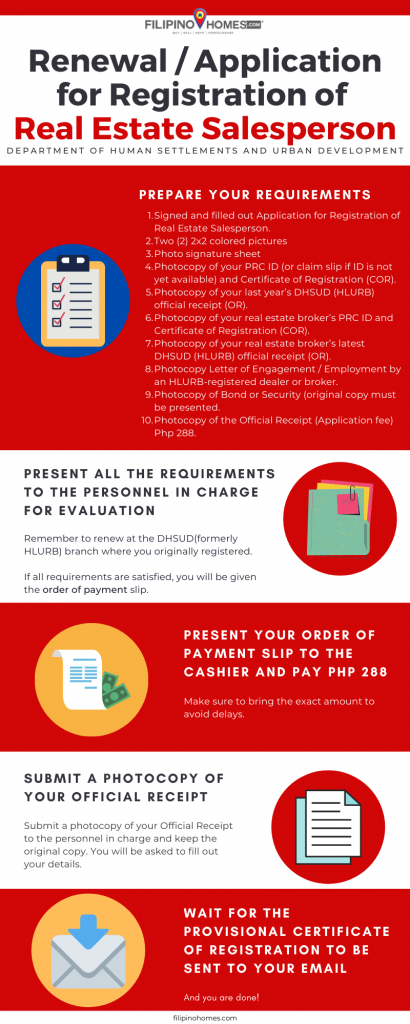 Here is the application process:
Step 1. Prepare the requirements.
Signed and filled out Application for Registration of Real Estate Salesperson.
Two (2) 2×2 colored pictures; one for the application form and the other one for the photo signature sheet.
Photo signature sheet
Photocopy of your PRC ID (or claim slip if ID is not yet available) and Certificate of Registration (COR).
Photocopy of your last year's DHSUD (HLURB) official receipt (OR).
Photocopy of your real estate broker's PRC ID and Certificate of Registration (COR).
Photocopy of your real estate broker's latest DHSUD (HLURB) official receipt (OR). Your broker must renew his/her DHSUD registration first starting Nov 2020.
Photocopy Letter of Engagement / Employment by an HLURB-registered dealer or broker. This should be signed by your broker.
Photocopy of Bond or Security (Original copy must be presented for comparison as faithful reproduction). It is advisable to pay a cash bond of Php 1,000 which you can use lifetime (as long as you do not have any violations) rather than paying a surety bond of around 400-500 yearly.
Photocopy of the Official Receipt (Application fee) Php 288.
Step 2. Present all the requirements to the personnel in charge for the evaluation.
Be ready with your original copies for verification if asked.
Remember to renew at the DHSUD (HLURB) branch where you originally registered.
Step 3. Present your Order of Payment slip to the cashier and pay Php 288.
If all requirements are satisfied, you will be given the order of payment slip to be presented upon payment at the cashier. Make sure to bring the exact amount of Php 288 to avoid delays.
Step 4. Submit a photocopy of your receipt
Submit a photocopy of your Official Receipt to the personnel in charge and keep the original copy. You will be asked to fill out your details.
Step 5. Wait for your Provisional Certificate of Registration to be sent via email.
The provisional certificate of registration will be issued through your email.
Download the APPLICATION FOR REGISTRATION OF REAL ESTATE SALESPERSON here.
---
READ: How to Apply for Renewal of Registration of Real Estate Broker
---
Office Address: DHSUD Building, Kalayaan Avenue corner Mayaman Street, Diliman, Quezon City
Email: ncr@hlurb.gov.ph
Contact numbers: 0916 378 0531 or 0921 757 3383