Kadayawan Festival 2016 Schedule of Activities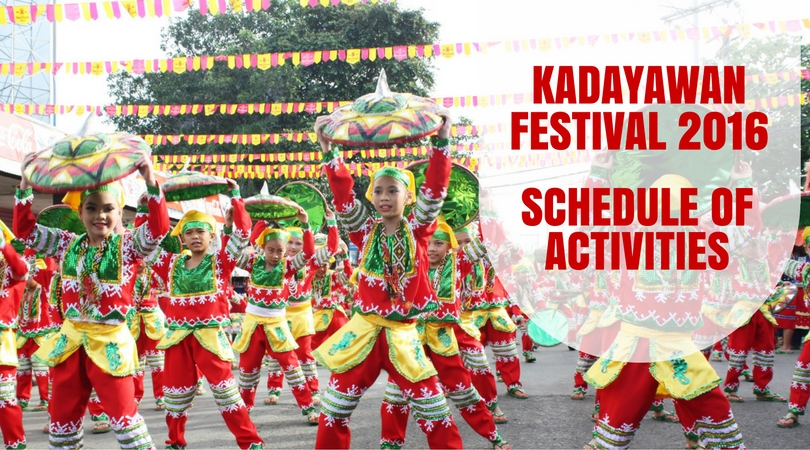 Kadayawan Festival, also known as Kadayawan sa Dabaw, is an annual celebration in the Davao City. The Davaoeños give thanksgivings for the year's blessings, the wealth of culture, and the bountiful harvest for the year. It is celebrated. every third (3rd) week of August. This festival focuses indigenous communities both from Davao and Mindanao as well as its migrant settlers that gives Mindanao its cultural heritage.
Kadayawan Festival is one of the most popular festivals in the Philippines. Locals celebrate jubilantly, and colorfully that tourists plans to visit Davao City just in time for this festival. Experiencing Kadayawan Festivals is unlike any other experience. You will see how welcoming, and warm Davaoeños are, and how interesting history, and culture is in Southern Mindanao.
Kadayawan Festival 2016 is the 31st year of celebrating Davao's bountiful blessings & starts its week-long celebration on August 15 packed with activities. Here is the 31st Kadayawan sa Dabaw Schedule of Activities.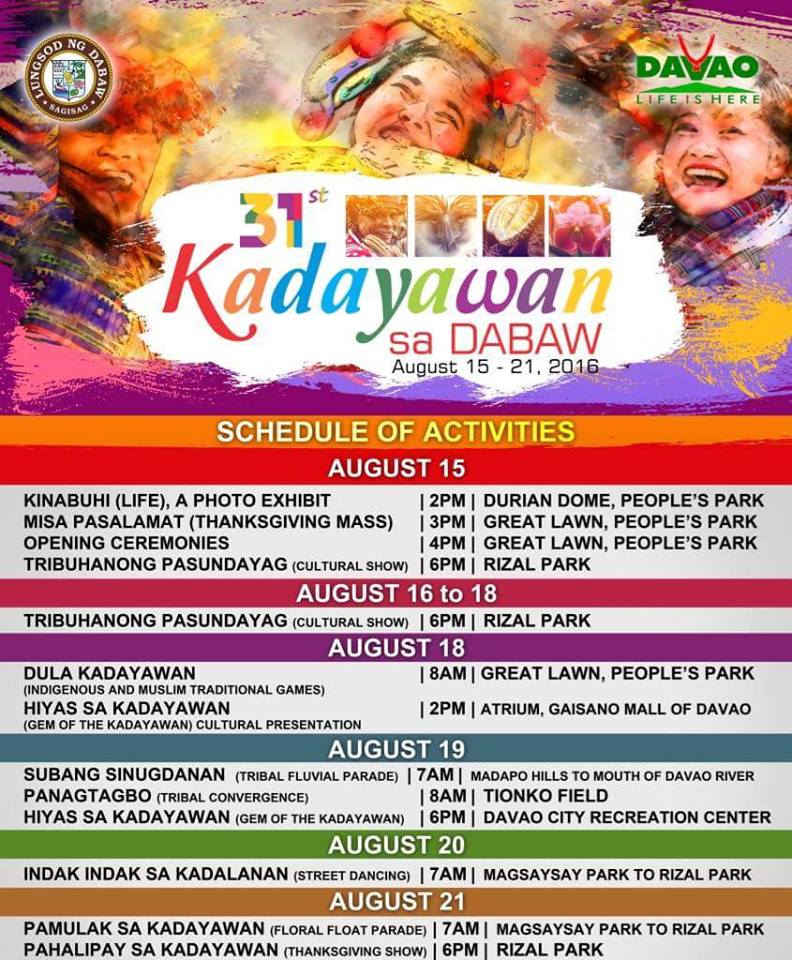 The Kadayawan sa Dabaw celebrates the bountiful harvest of Davao's  produce like flowers, fruits and other produce as well as the wealth of the city's cultures. The festival continues to honor the city's diverse artistic, cultural and historical heritage in an annual grand celebration of thanksgiving for all of Davao City's blessings.
IMAGE SOURCE: EscapeManila.com
SCHEDULE OF ACTIVITIES SOURCE: Dabawenya.net