Leuterio, PRBRES Virtual Enhancement Training Program
Professional Regulatory Board of Real Estate Service (PRBRES) held a Virtual Enhancement Training Program last February 1-5, 2021 as a Continuing Professional Development (CPD) and skills enhancement training. Real estate professionals joined the training program to be updated with the right practices and RESA compliance for property selling.
Anthony Leuterio, the founder of Filipino Homes, the largest comprehensive real estate solutions portal in the Philippines, received a certificate from Board Members of the Professional Regulatory Board of Real Estate Service for sharing his expertise as a speaker and lecturer at the PRBRES Virtual Enhancement Training Program.
"The renewal of my accreditation as a Speaker/Lecturer means a lot to me as Filipino Homes continuously train new agents in the proper real estate profession practice and RESA compliance." Leuterio says.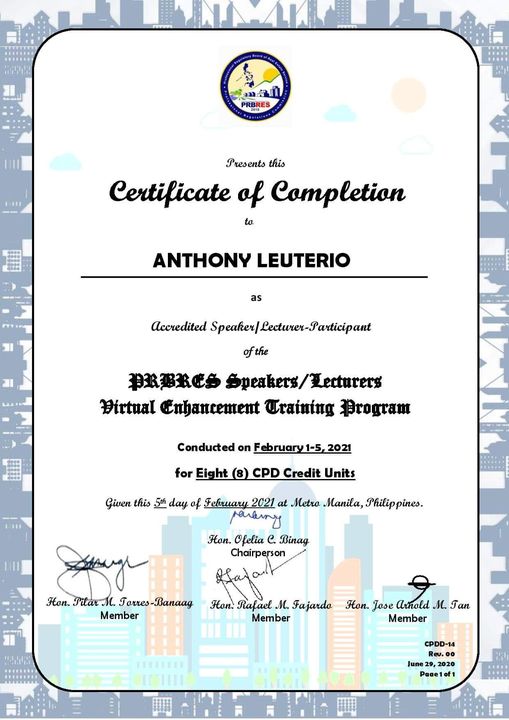 Filipino Homes provides one-stop-shop services for professional real estate buyers and sellers. It is powered by its growing property agents, Filipino Homes provides a full range of services including property management, in tandem with affiliate Rent.ph; foreclosure listings; and real estate insurance and consultancy services.
Not only does it provides much-needed market information, extensive property listings, statistics, and experts' industry assessments but also known to uphold professionalism and compliance to law to protect every Filipino homeowner.
You may also like to read;