Metro Manila Residential Property Market Report [1H 2019] and What This Means For You
JLL, the Philippines' leading real estate and investment management firm, recently released the Philippine Property Market Report for the first half of 2019. The comprehensive report highlights key movements and updates in the office, residential, retail and hospitality sectors of the real estate market the country. This blog post focuses on the state of the residential property market in Metro Manila.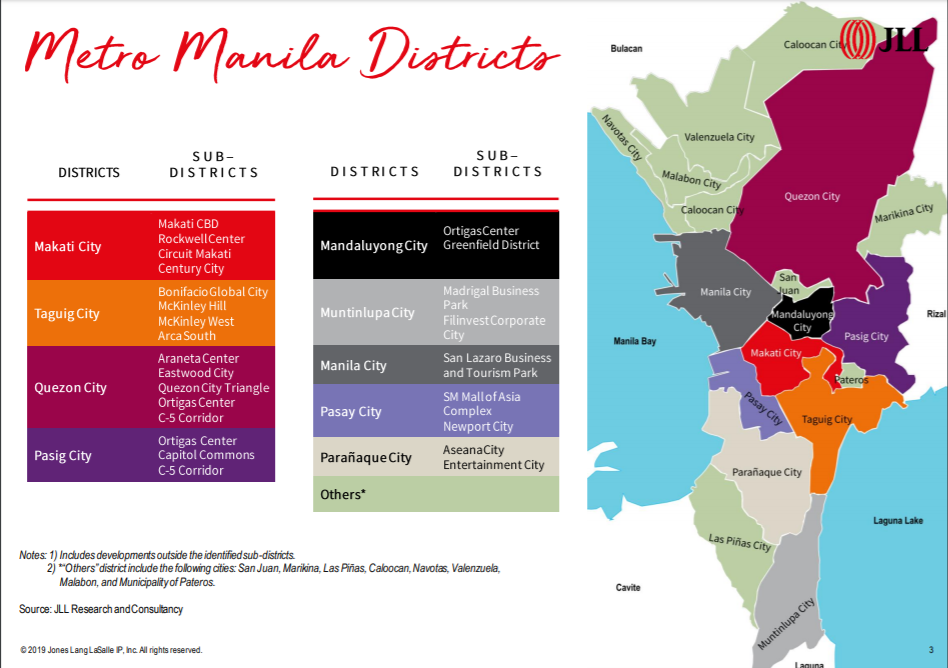 Residential Property Market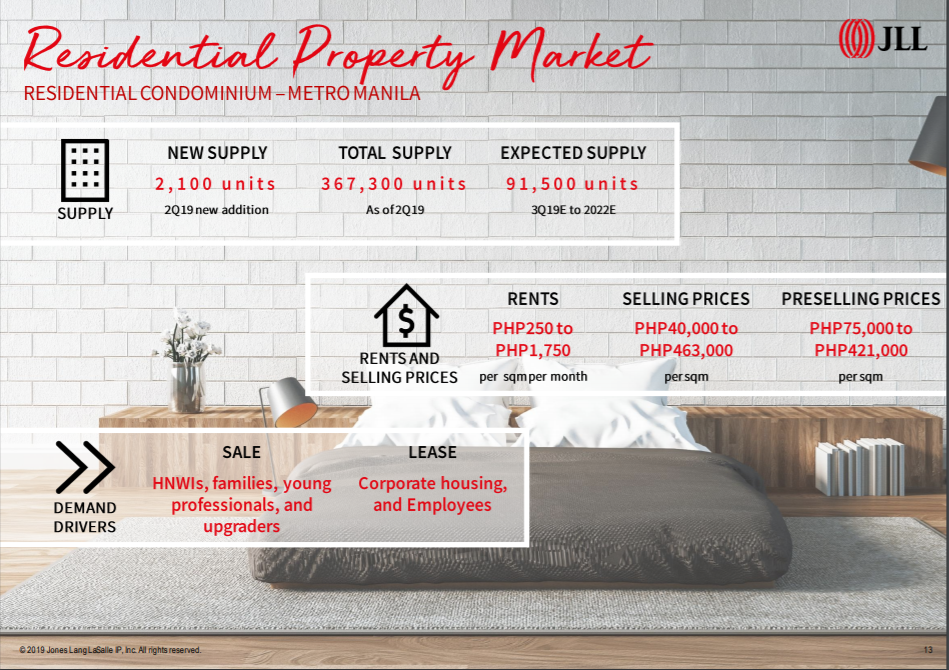 Supply
Approximately 2,100 units are completed in the first half of 2019, bringing the total supply to 367,300 units. Development completions during the first half of the year are mostly coming from Makati and Taguig. The rest of the year is expected to deliver around 35,500 units more, mostly in Makati City and Quezon City. Growth is expected in Pasay City over the next three years attributed to the growing investments in the Bay City.
Demand
The average vacancy rate is recorded at 2%, with Pasay City and Paranaque City bringing the rate down due to online gaming tenants. On the other hand, employees and students drive the leasing activities for the Cities of Makati and Quezon. A strong pre-selling market for mid-range to luxury segments is observed, with high sales take-up figures of future developments.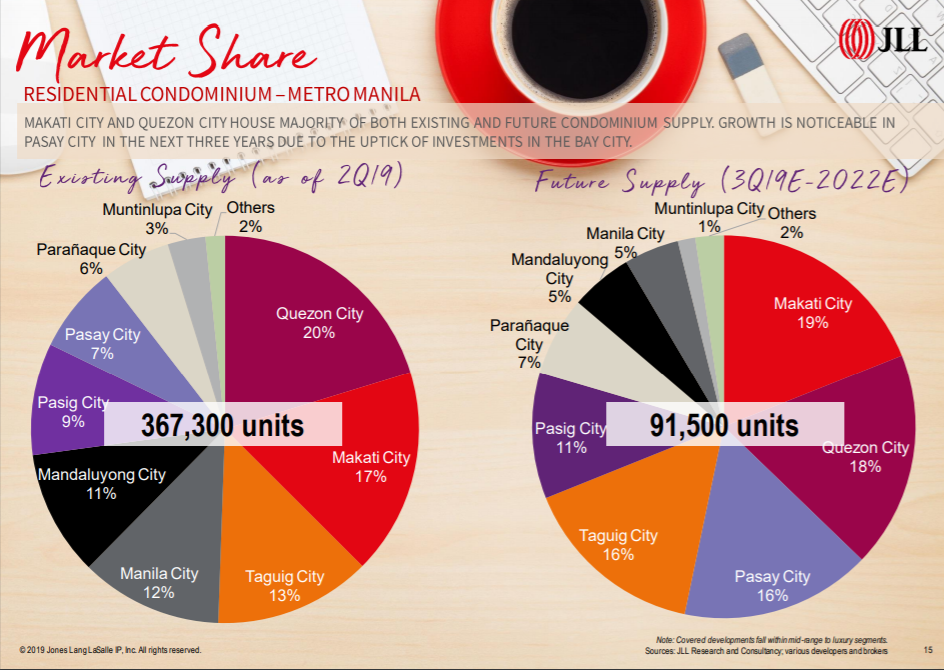 Demand Drivers
The leasing market for upper mid to luxury developments source demand from corporate housing needs of expatriate employees of offshoring and outsourcing firms, multi-national companies, and embassies.
Additionally, local and foreign high-net-worth investors continue to drive the selling market for upper-mid to luxury developments – with the purpose of either renting out the units or flipping them upon capital appreciation. Meanwhile, individuals such as starting families, young professionals, and upgraders make up the end-user demand profile of mostly mid-range developments.
Rent and Selling Prices
The strong leasing market, driven by corporate housing needs of expatriate employees, stimulated rents in Makati City and Taguig City, becoming the highest across districts. Rental rates in Makati City range from Php470 to Php1,750 per sqm per month, and Php340 to Php1,690 per sqm monthly for properties in Taguig City. On the other hand, rents in Pasay City (Php530-Php1,380 per sqm per month) and Parañaque City (Php420 to Php1,300 per sqm per month) are influenced by healthy demand from housing requirement for online gaming employees.
In terms of selling prices, Makati City commands the highest prices for both existing (Php136,000 to Php463,000 per sqm) and future supply (Php175,000 to Php421,000 per sqm). Prices in Paranaque City have continuously gone up, evidenced by the prices of future supply (Php124,000 to Php359,000 per sqm from prices of existing supply (Php65,000 to Php308,000 per sqm). This is due to the large interest in Bay City.
---
What This Means For You
JLL's thorough research and expert analysis of the property market in Metro Manila for 2Q2019 corroborates what has been observed in recent years. The state of the Philippine real estate industry remains dynamic and continues to attract more investments in the coming months (and years).
With this continued bullish performance and expected growth of the real estate industry, in residential, office, retail, and hospitality sectors, it is still a good time to invest in rental properties. If you are looking for opportunities to increase your passive income, invest in a condominium and make it a self-liquidating asset. Talk to a professional real estate service provider and assess your options.
Related Articles
Learn more about property investing. Read more:
Full report: https://www.jll.com.ph/en/trends-and-insights/research/1h19-philippine-property-market-overview
---
Lovette Jam is a founding member and blogger of Filipino Homes. She is a freelance digital media professional. With a Masters in Business Management degree and Hubspot certification on Inbound Marketing, she currently works as a social media manager, project manager, and digital consultant.
Lovette Jam is also the founder of Iligan Bloggers Society, Inc. She authors the travel blog Travel Jams and lifestyle blog Lovette Jam.