Q1 2020 Metro Manila Residential Property Market Overview and What This Means for You
Jones Lang LaSalle IP, Inc (JLL), the Philippines' leading real estate and investment management firm, has released its Q1 2020 Metro Manila Property Market Overview. The report covers the office, residential, retail, and hospitality sectors in Metro Manila, as well as the logistics sector in Metro Manila and the provinces of Cavite, Laguna, and Batangas (CALABA). This blog post, however, highlights the key movements in the residential property market of Metro Manila in the first quarter of 2020 amidst the COVID-19 pandemic.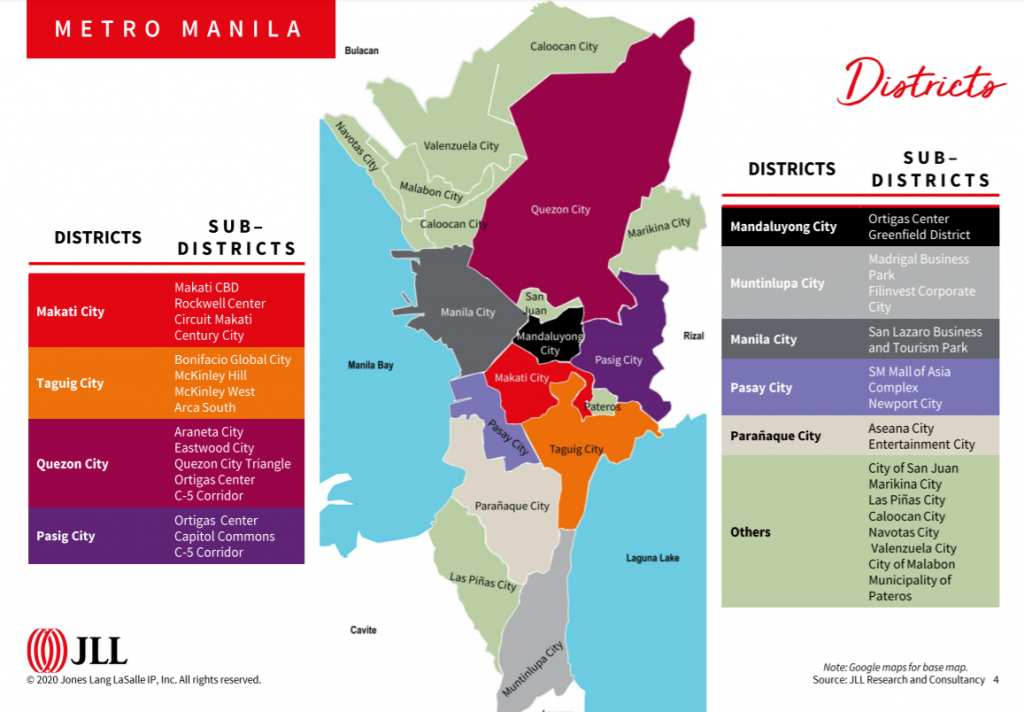 Supply
Around 8,200 residential units are added to existing supply. The Luzon community quarantine and lockdown may likely result to more than 60% of 2020 pipeline to slip to 2021 due to delays in construction.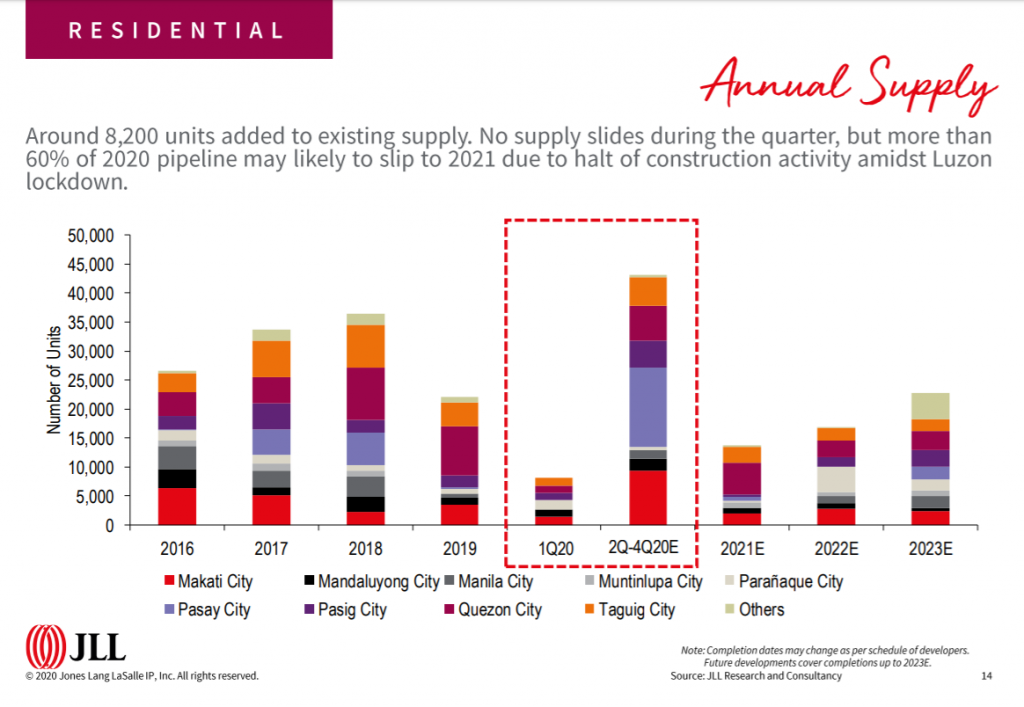 In terms of market share, majority of existing and future residential supply is in Quezon City. However, future supply sees growth in Pasay City, which is expected to overtake Makati and Taguig in terms of completion of developments, mainly attributed to the growing investments in the Bay City.
Demand
The pandemic has also caused a slower leasing market, pushing the overall vacancy rate from 2.9% (last quarter of 2019) to 3.5% (first quarter of this year). Sale market activity has likewise slowed with a 94.3% sales take-up of upcoming developments, which was 99.1% in 4th quarter of 2019.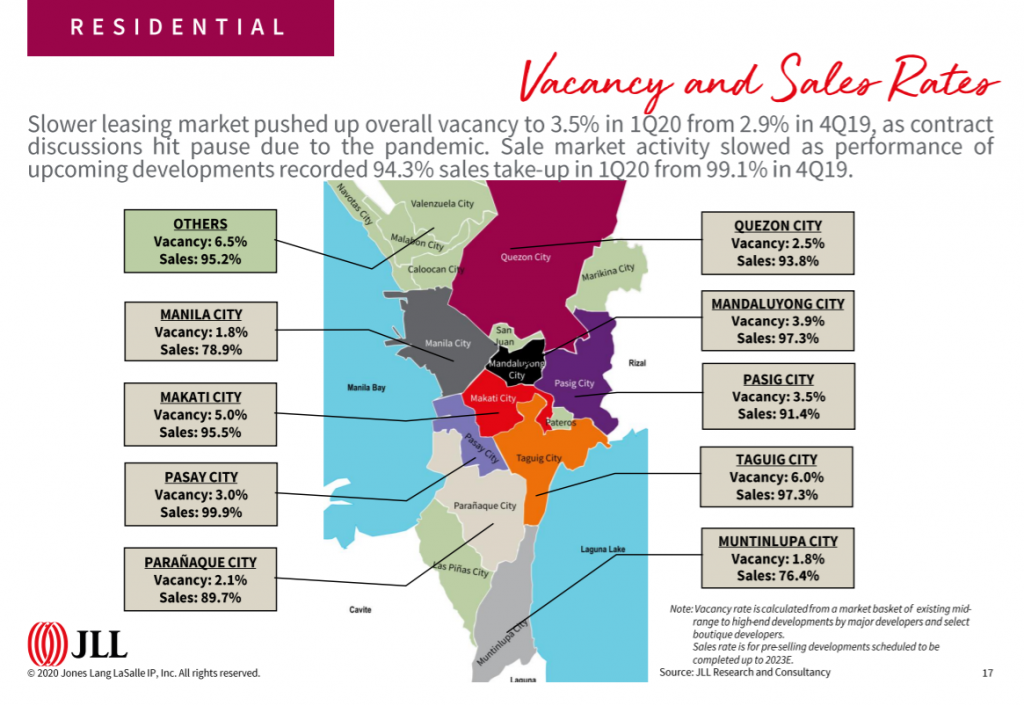 Demand Drivers
Local and foreign high-net-worth investors remain to be the major demand contributors for upper-mid to luxury developments – with the purpose of either renting out the units or flipping them upon capital appreciation. On the other hand, overseas Filipino families still drive the market prior to lockdown, despite the foreseen slowdown in total cash and personal remittance.
Rent and Selling Prices
Rental rates average at Php827 per sqm per month, which is 2.0% less than the 4Q19 average. Weak leasing activity pulled down rentals. The cities of Makati (ranging from Php790 to Php1,430 per sqm per month), Taguig (Php450 to Php1,330 per sqm monthly), and Pasay (Php410-Php1,130 per sqm per month) continue to have the highest average rents across districts.
Selling prices maintained a stable growth despite slow sales. The cities of Taguig, Makati, Pasay, and Paranaque continue to have the most expensive average selling price due to the business districts and large interest in Bay City.
What This Means For You
JLL's comprehensive research of the property market in Metro Manila for 1Q2020 showed a mixed performance across asset classes due to the impact of COVID-19.
In terms of residential property market, there is a notable slower lease activity in the middle of the COVID-19 threat. As a result, residential rents also slipped. Additionally, large supply was completed prior to this pandemic, further pushing the vacancy rates higher, which has also increased due to the deceleration of lease activity. Selling prices, however, remained resilient, despite slower sale activity.
Therefore, despite the pandemic, it is still a good time to invest in rental properties. If you are looking for opportunities to increase your passive income, it is a good time to invest in a condominium. Talk to a professional real estate service provider.
Related Articles
Learn more about property investing. Read more:
Full report: https://www.jll.com.ph/en/trends-and-insights/research/1q20-metro-manila-property-market-overview?