REACT | Real Estate Amidst COVID Threat with Andy Mañalac
A FREE WEBINAR on strategic responses to the threats and opportunities in Real Estate in time of Crisis
Join us on April 3, 2020, Friday at 10:00 in the morning for the webinar as Mr. Alejandro S. Mañalac shares to us how he survives different real estate crisis and shares his tips on how to survive the real estate business in this COVID-19 PANDEMIC.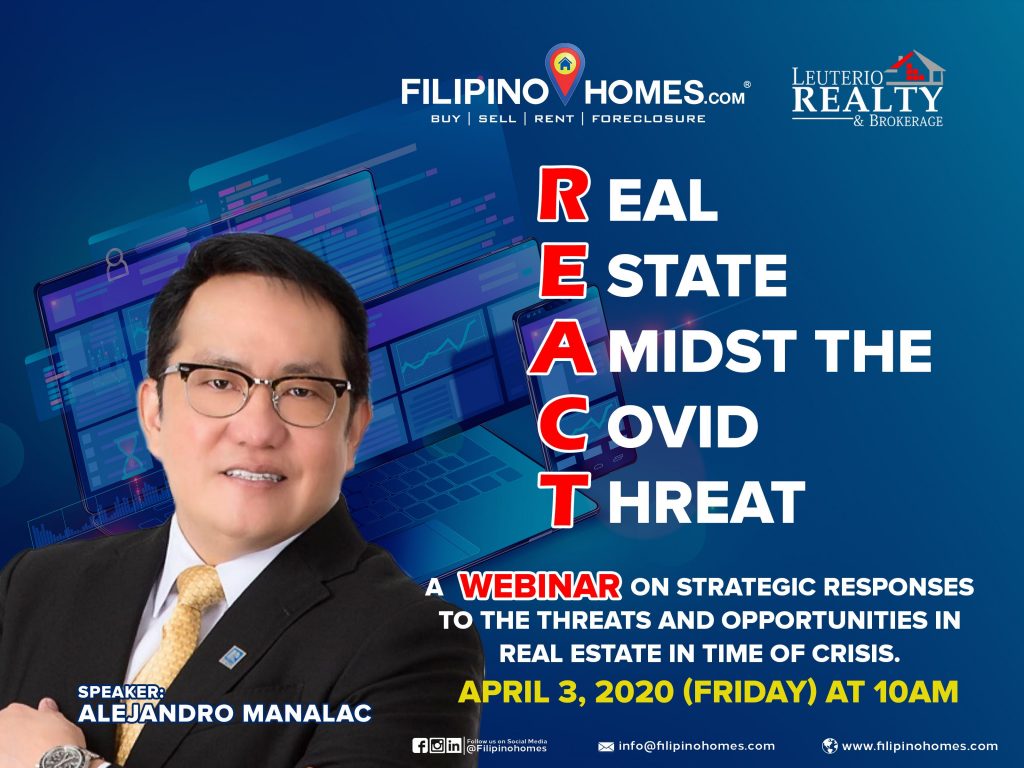 Andy is the Co-founder and Chairman of Havitas Development Corporation. Andy has 30 years of real estate experience and is a recognized industry thought leader and frequently invited to speak by real estate organizations and investment forums here and abroad.
He is the immediate past Chairman for 3 consecutive years of the National Real Estate Association, one of the biggest real estate professional organizations in the Philippines.
He is currently Havitas's company representative to the Chamber of Real Estate and Builders' Association (CREBA) and was recently inducted as Vice President for Housing Affairs.
Andy is also the Operating Principal of Keller Williams Manila Bay. He is an International REALTOR® Member and a Certified International Property Specialist of the National Association of REALTORS® (USA
Charmaine Xy-Za Yape is a founding member and a blogger of Filipino Homes. She is also a PRC and HLURB Registered Real Estate Professional and a Licensed Financial and Investment Advisor. She is an International Realtor member. She is a Hubspot certified in Inbound Marketing. She is also the co-founder of Iligan Bloggers Society, Inc.