REACT | Real Estate Amidst the COVID Threat – Azela Honor
A WEBINAR on strategic responses to the threats and opportunities in Real Estate in time of Crisis
Join us on April 1, 2020, at 10:00 in the morning for this exclusive webinar with Ms. Azela Honor of Filipino Homes Team A, as she shares her insights about the current COVID-19 Pandemic.
April 1, 2020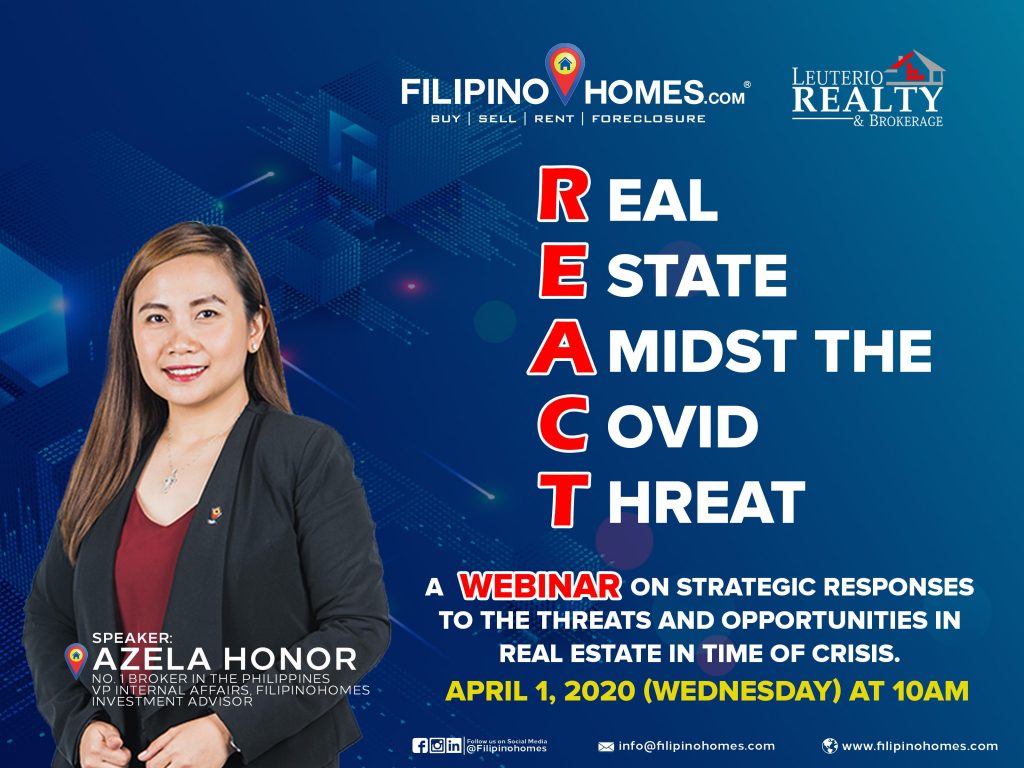 Ms. Azela Honor is the lead broker of the Top Real Estate Team of Filipino Homes. Married to Mr. Marlo Honor, who is also a Licensed Real Estate Appraiser and a mother of 4 beautiful kids. Azela and Marlo successfully lead the biggest team in Filipino Homes today and has been the undefeated top team of the Filipino Homes history.
She also heads Filipino Homes plus and the Chief Executive Officer of Cleanmate Solutions Inc. She's a member of the National Associations of Realtor.
Learn more about Cleanmate Solutions here.
Charmaine Xy-Za Yape is a founding member and a blogger of Filipino Homes. She is also a PRC and HLURB Registered Real Estate Professional and a Licensed Financial and Investment Advisor. She is an International Realtor member. She is a Hubspot certified in Inbound Marketing. She is also the co-founder of Iligan Bloggers Society, Inc.