How to Maximize Space in Your Compact Dining Room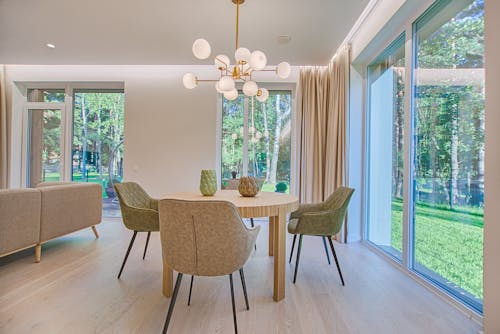 According to a 2020 survey of Filipino households by the Statista Research Department, 35.2 percent of families live in residential units that are from 10 to 29 square meters in floor area. An additional 30.2 percent of Filipino households live in units with a floor area ranging from 30 to 49 square meters, while, at the opposite end of the spectrum, only 2.3 percent of the population live in units exceeding 200 square meters.
Considering how often dining rooms are used to entertain guests and to dine with the family, it's important to maximize and optimize the space so that it can be both functional and elegant. But, how do you get started? This guide will provide you with a few helpful tips.
Start with the Dining Table
Most interior designers explain that the dining table should be the focal point of a compact dining room. When selecting a dining table for a smaller home, try to look for one that easily incorporates into your kitchen and living area so that the design is consistent throughout your apartment, condo unit, or tiny house. Look into different compact dining sets, and also consider the placement of appliances and furniture around it. It makes sense to take into consideration how the other elements in your dining space will be positioned around the dining tables since this will likely be the biggest object that will have to be accommodated into this part of your home.
You can also consider giving away your current dining furniture set to a friend if it's too big or clunky for your space, or put up your dining chairs and dining table for sale on an online marketplace or at a neighborhood weekend market. Then, you can buy a replacement set that is more compact and occupies less floor space.
Understand the Layout of Your Home
Though it sounds quite obvious, some people may forget to consider how their home or apartment is designed. Look at your dining area and consider how it flows into other rooms. Does it extend to your living room or is it cut by a bedroom? Is there a wall in the middle of the kitchen or are there any other blockages that prevent you from placing certain appliances in specific areas? If you live in a studio-type apartment, consider how much space you are willing to allocate for your dining area.
An expert tip would be to measure your dining room's floor space and how much you're willing to set aside for your dining table. This makes shopping for a new furniture set easier as you'll know the dimensions of the ideal dining table for your home.
Consider Multifunctional Dining Sets
When considering a dining set for a smaller area, try to look for sets that serve more than one function. Some dining tables, for example, double as storage units, which can be helpful in clearing your dining space of clutter. Other dining sets can be folded and hidden from view when not in use, which means you'll have more room to move about when it's not time to eat.
If your budget is limited, you can opt for banquette seating instead. Rather than buying an actual table, you can solve limited space issues and budget concerns by selecting a comfortable sofa or bench first, then spending less on a foldable table.
Work Around Your Budget and Style
Just because you live in a smaller home, doesn't mean that you must sacrifice style. There are many options available for you, including a breakfast nook dining set. These are sets that include bench-type seating along two walls, with a park table. Because these sets usually are placed by the corners of a room, they allow you to save space while also providing a comfortable environment to entertain people in.
If that's not your style, then you can also consider a collapsible table. Gone are the days when these tables were made from clunky materials that also looked cheap and breakable. Many furniture suppliers today offer a wide range of products, including elegant collapsible tables that you can prop up whenever you need them. A good tip would be to measure how wide and tall your table will be once it is collapsed, as you would need to have the right storage space for your table as well.
Another recommendation would be to incorporate shelves into your dining area to make the most of your wall space. You can easily install shelves onto your wall (if you're renting, make sure that you secure permission from your landlord first), and use these shelves as additional storage space or as a way to display your family photos. If you're shopping online and can't otherwise inspect the actual furniture you're intending to buy, make sure that you correctly measure the area where you intend to place your shelves and compare these measurements with the stated dimensions of the shelves. Also look at the maximum weight each shelf can accommodate.
When you have a compact dining room, it may seem impossible for you to entertain or live life in style. But with the right tricks for maximizing your dining space, you can easily turn a small area into the heart of your home.