Is It Better to Hire a Property Manager or Manage My Rental Property Myself?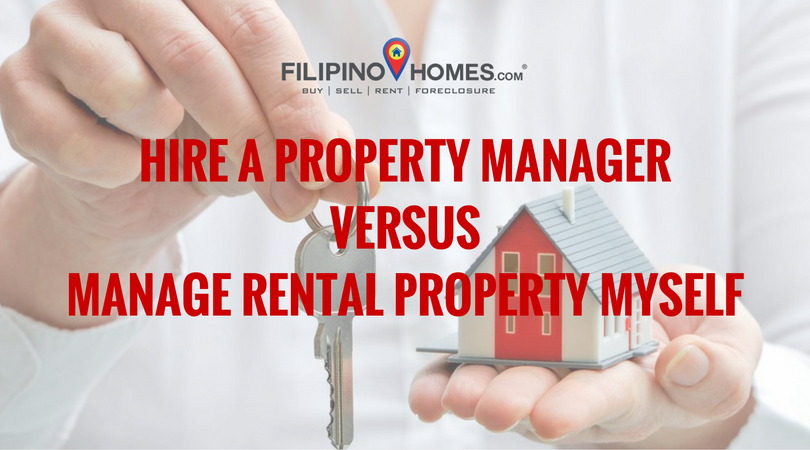 Hiring a Property Manager is personal decision, and it is not the right move for everyone. Here is a helpful article to help you decide if you should hire a professional to help you manage your rental property, what they can do, and how to hire the ideal person to manage your rental property.
What is a Property Manager?
A property manager are professionals for hire that performs duties  such as marketing your rental property, maintaining the property, selecting tenants, creating budgets and collecting rent.
You may consider hiring a one if you wish to delegate these managing your property and the tasks involved with it to someone else. This will limit your day-to-day responsibilities regarding your rental property. You will still be responsible for supervising the property manager, and has the final say and decision but the he/she will see to it that your property rented out is well maintained.
When do you need to hire a Property Manager?
Location to the rental property to your residential home.
You can afford extra fees (professional fee)
You do not have enough time to mange your property, make sure it is well maintained and solve unforeseen issues that might arise.
You are willing to take on the liability of hiring someone to manage your rental property.
You have low tolerance dealing with tenants, and asking for rent.
How to find a good Property Manager?
If you decide to hire a Property Manager, use caution in selecting and finding one:
Get recommendations from family, and friends.
Search for professional directories on the internet.
Make sure to interview potential manager and do a background check on experience and previous work done.
Hire from a reputable Real Estate company or property management companies.
You do not have to hire a Property Manager just because you are new to property investing, and if you're not comfortable. Personal experience is often the best teacher and everyone has to start learning somewhere. But when you find that you have a lot on your plate and that managing your property is time, and emotionally consuming, consider hiring a Property Manager to lessen your burden.