Advantages of Buying a Ready-for-Occupancy (RFO) Condo Unit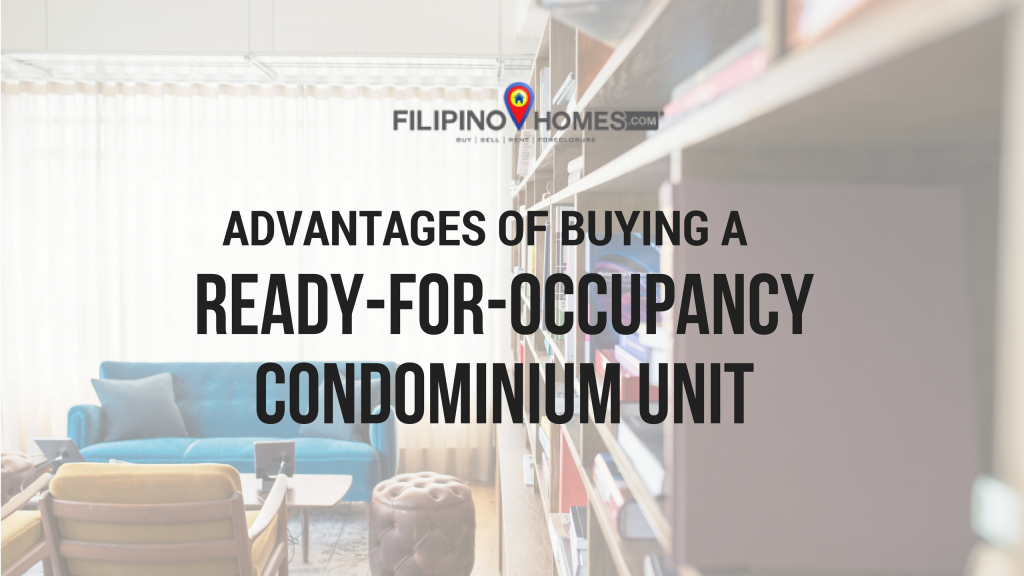 The number of condominium projects in the Philippines has been continuously growing over the recent years.  Condominium units have become an alternative option for the young professionals, starting families, and retirees who prefer to live in highly urbanized cities. One of the major considerations in purchasing properties is whether to buy pre-selling or ready-for-occupancy units.
We have previously tackled about investing in pre-selling properties (Read: Should you Invest in Pre-selling Properties in the Philippines?) In this article, we will discuss why you should invest in ready-for-occupancy condominium units.
What are ready-for-occupancy (RFO) condominium units?
Ready-for-occupancy or ready to move in properties are units that new owners can simply move into after finalizing sale. It is a finished home that, as the name implies, is ready for its new owners to occupy.
Why should you consider buying ready-for-occupancy units?
There are many advantages of buying RFO properties:
Lesser waiting time
While pre-selling units require you to wait for quite a long time, you can already start living in your RFO unit as soon as the sale is finalized.  In general, you would not have to wait for years for the condominium unit you are purchasing to be completed. You would not have to wonder if it will actually be finished or if the promises will actually be delivered.
Unit is Ready for Inspection
Because the condo unit is already available, you can actually visit it for inspection. You can check the property's actual size and orientation, as well as inspect the overall quality of the materials used and quality of work. You can also check the fixtures, view from the window, and the amount of light that gets inside the property. Seeing the actual unit also allows you to imagine living in the property and figure out how you decorate your new home. By actually visiting the unit, you can be sure that the property you are buying is up to your standards.
Property can be used immediately
RFO units are ready to be used right after ensuring all paperwork are in order and payments are already sorted out . This is the most important advantage of buying ready-for-occupancy units. You can either use it immediately as your own home or you can lease it to somebody else, so you can immediately start to earn your rental income. (Read: Tips on How to Start Earning Rental Income)
Availability of Utilities
If you are purchasing resell units (meaning, previously owned), power, water, telephone, and internet connection are usually already installed and ready for use. You may need to make some arrangements for change of name, but these won't need as much time as applying for installation.  If you are purchasing new units, these utilities are often ready for installation.
Readily Available Facilities and Amenities
By purchasing units from already completed projects, aside from the immediate availability of your unit for your use, you can also enjoy the readily available facilities and amenities offered.
Purchasing ready-for-occupancy condominium units may cost higher than pre-selling properties, but with these advantages, it may be a good idea to consider these RFO units.