The Value of Concrete Countertops: Customization Increases Aesthetic Appeal and Real Estate Investment for Homeowners
Concrete countertops are now becoming popular again. As minimalist and industrial designs are being chosen by minimalist Millennials. In fact, concrete countertops have become somewhat of a status symbol for kitchens, rivaling granite, and other high-end countertop surface options. Consumer Reports Magazine ranked concrete highest for its customization and exclusivity among high-end kitchen countertops.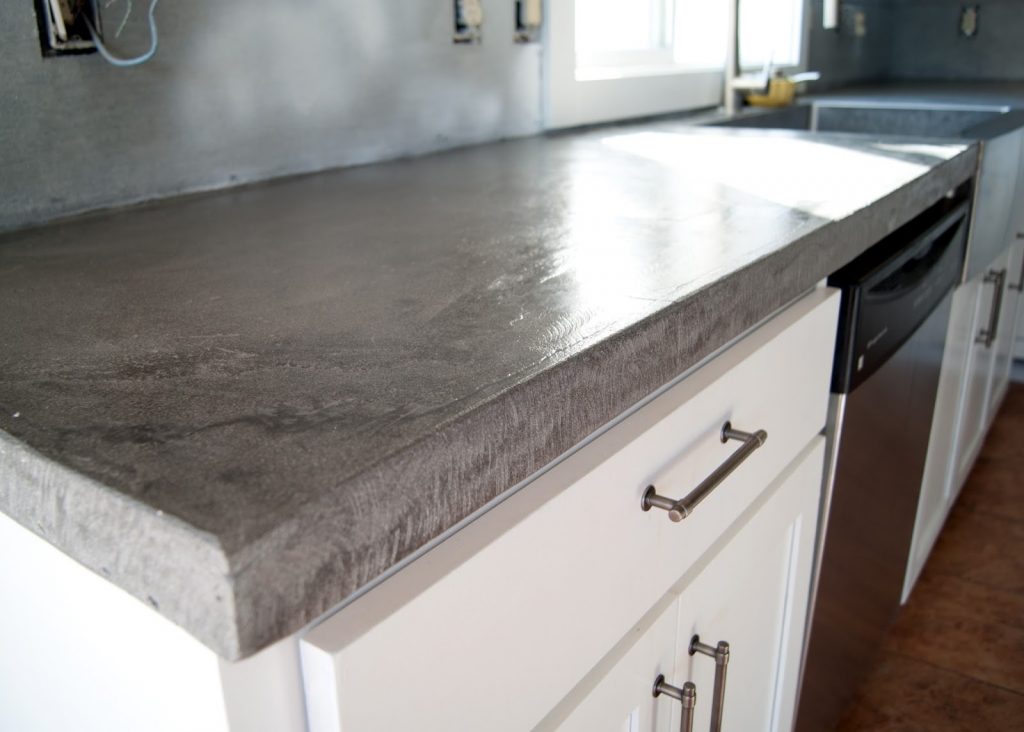 As a custom product, the amount of time and craftsmanship required to produce concrete countertops places them as the most labor-intensive and priciest among leading countertop materials. My late Dad was a civil engineer and the majority of his projects even before is using a concrete base countertop. However, clients most of the time would prefer tiled countertops of granite.
However, concrete countertops are becoming more accessible for those on a modest budget. The latest do-it-yourself (DIY) trend to captivate homeowners and builders is building your own concrete countertop. There is little monetary investment in making concrete countertops, yet the creative gains of working with concrete are plentiful.
THE SHOWSTOPPER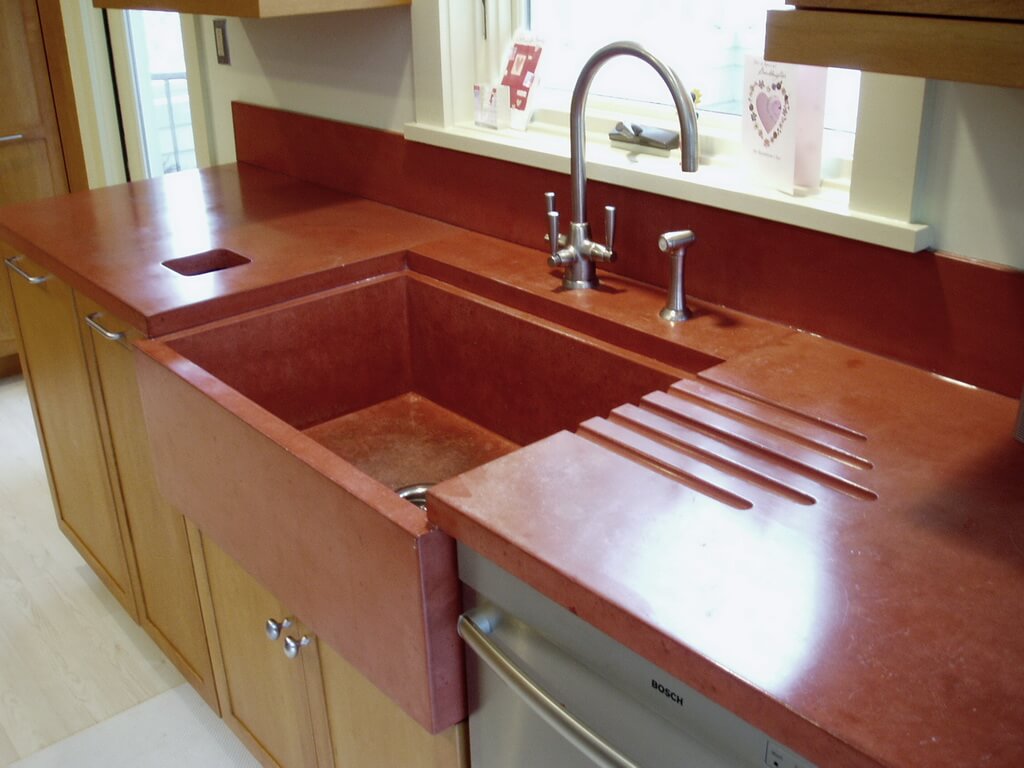 Increasingly, homeowners are moving away from the monotonous, manufactured look of traditional countertop surfaces. They are now choosing concrete for its earthy, timeless appeal. Plus, the options for personalizing concrete countertops are endless. One can color, polish, stamp and stain concrete or imbed personal objects like stones, seashells and fossils into the countertops surface, adding sentiment and character. Functional features such as drain boards, soap dishes, and trivets can also be incorporated to suit the homeowners own needs and lifestyle.
Concrete is slowly becoming demystified as characteristically cold and industrial. On the contrary, this age-old material is warm and surprisingly tactile; people cannot help but touch their smooth, polished surfaces. You can build a pour-in-place concrete counter for the home kitchen and bathrooms. The sand-colored concrete countertops were polished smooth, then paired with a natural slate of varying colors like charcoal, rust, and gold tones that forms the backsplashes in the kitchen and baths. As a design accent, small rectangular slate tiles were added to the rim of the bathroom sinks, which provided a unique detail to the custom vanities.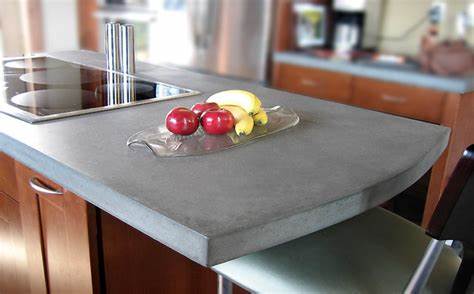 The concrete countertops were easily the most unique and impressive of all the finishes. I believe they were a huge part in adding value to the home. In the Philippines, all you see in homes are granite countertops. And I really think homebuyers are getting quite numb with granite.
BREAKING THE MOLD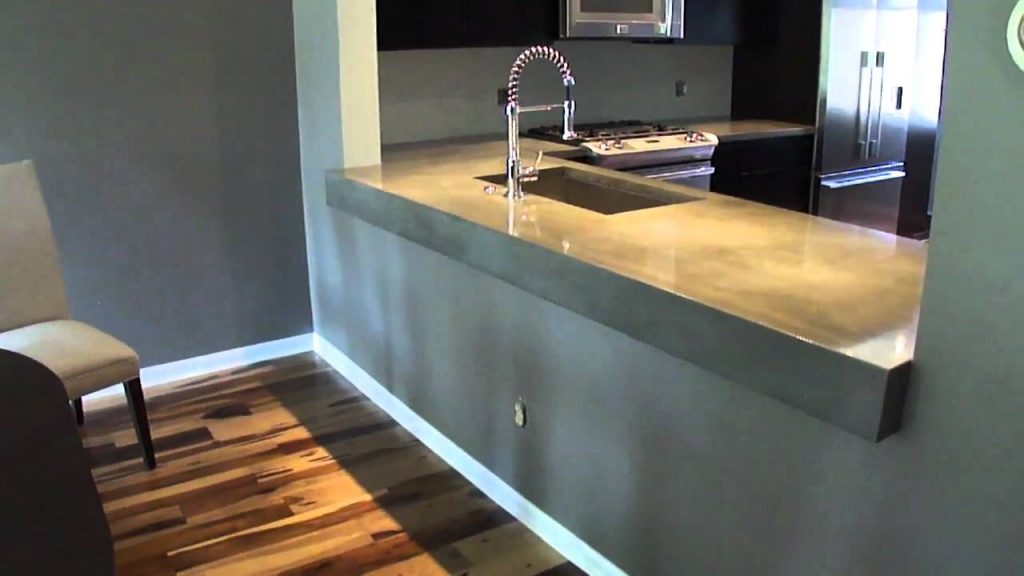 Another advantage of concrete is its adaptability in either modern or traditional settings. This is true especially when coupled with other materials like varied metals, wood, or stone. Concrete adds so many [possibilities] to stone, and the combination with slate, which is hugely popular here, gives the mountain homes an overall warm, natural touch, says Joy.
The L-shaped concrete countertop has a rough, rustic stone appearance, complementing its rugged country surroundings. An integral drain board and trivets provides function and added interest to the concrete countertop. Natural slate backsplashes, distinct wall accents, and a butcher block countertop at the kitchen island all resonate with the traditional warmth and earthiness of the concrete countertops.
Concrete countertops can add tremendous aesthetic and financial value to a home. Concretes customization and a show-stopping appeal are like no other countertop surface.
Charmaine Xy-Za Yape is a founding member and a blogger of Filipino Homes. She is a PRC and DHSUD Accredited Real Estate Professional and a Licensed Financial and Investment Advisor. She is an International Realtor member of the National Association for Realtors and a Hubspot Certified in Inbound Marketing.