What Sites to Follow for Official COVID-19 Updates?
As people are strongly advised to stay home and observe social distancing as much as possible to prevent the spread of the novel coronavirus, social media has, now more than ever, become a much appealing way to stay in contact with friends, family, and colleagues. However, whether we like it or not, social media can also be a source of misinformation and bad advice.
In these trying times, we need to fight fake news and misinformation on the pandemic, which could spread as quickly, and be as fatal, as the virus itself. We call on a more responsible use of social media and encourage everyone to check health-related information about the outbreak from established news and health sources rather than from shared stories in social media.
Here are some websites and social media accounts to follow for official updates:
World Health Organization
Follow World Health Organization [link: https://www.who.int/] for official updates on the coronavirus outbreak. The site contains everything you need to know about COVID-19, including answers to frequently asked questions, press briefings, situation dashboard, and tips and advice for the public on how to protect yourself and others against the virus.
Social Media Sites:
COVID-19 PH Government Portal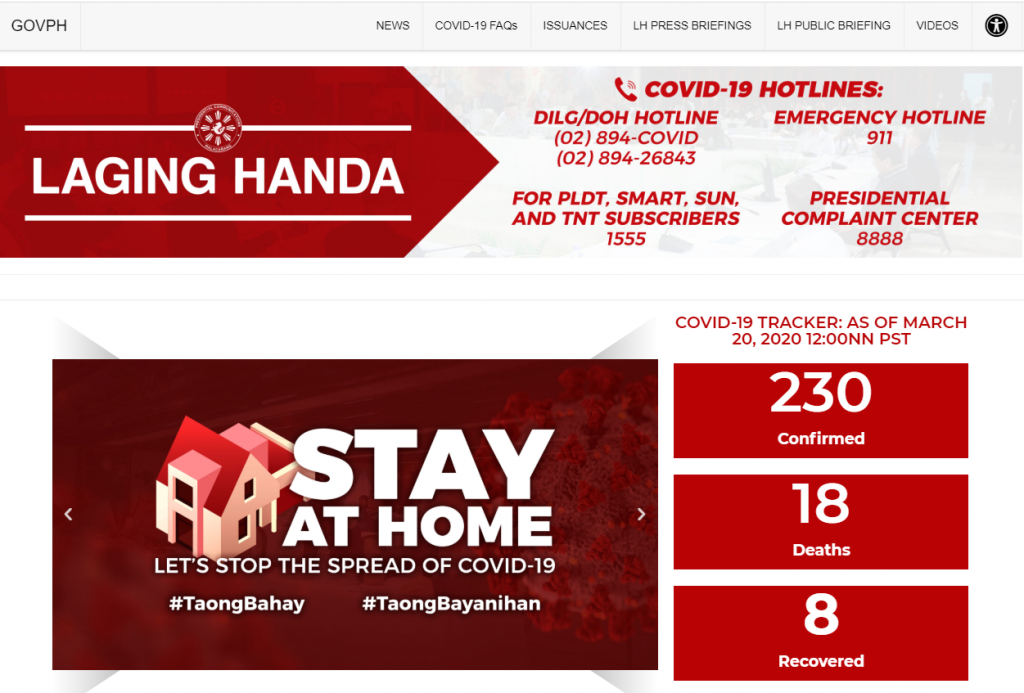 The site, www.covid19.gov.ph, is the government portal led by the Presidential Communications Operations Office (PCOO). The portal serves as:
News aggregator (Phil News Agency, Phil Information Agency, PTV) ;
Issuances aggregator (Presidential proclamations, department orders, memorandum circulars, etc.) ;
Heat map of confirmed cases and recovered patients based on latest DOH data;
Videos on demand (President Duterte's messages, Laging Handa Public Briefings, and Press Briefings);
FAQs; and
Video campaigns.
Soon to be included in updated versions are:
1. IATF corner;
2. Bayanihan stories of HOPE; and
3. #DismissDisinformation – correcting fake news.
DOH Official Website
The Department of Health (DOH) [link: https://www.doh.gov.ph/2019-nCoV] is our national health authority. The website provides updates on the status of COVID-19 here in the Philippines. Check the website for FAQs published in Filipino, public advisories also in Filipino, COVID-19 Case Tracker, press briefing, and some useful infographics you can use to spread awareness about the novel coronavirus.
Social Media Sites:
Reliable News Sources
We can also check established news sites for verified information about the global pandemic. Here are some web pages that compile updates. You may also opt to follow their official social media sites to keep updated:
Your Local Government Authority
To get updates about your COVID-19 in your locality, you may check the official Facebook accounts of your local government unit (LGU) or your local information and health offices. You can also follow local news agencies in your area on social media.
Let us all be responsible users of social media. Let's work together to combat fake news and disinformation while we all find ways to protect ourselves and others from the virus.