7 DIY Accent Wall Ideas for Your Home
How are you all doing a couple of weeks into home quarantine? In case you are running out of things to do, why not spruce up your space — whether it's your living room, bedroom, home office, or bathroom — with an accent wall? An accent wall is a wall with a design that stands out from the design of the other walls in the room. Here are some DIY ideas you can work on:
1. Bright and Bold Accent Wall
Choosing a bright and bold color is perhaps the easiest way to make a statement in a small space. Paint one wall an energizing color (bright red, orange, or yellow), then use a bold contrast for decor.
2. Bold Black Feature Wall
Don't be afraid of using black. Black can bring modern edgy vibes to your space. They work well in small spaces too, just like this minimalist bathroom. The black wall behind the toilet takes the eye to the back of the room and makes the room look bigger.
Check out more bold black accent wall ideas here:
3. Minimal Line Accent Wall
If you are not yet ready to fully commit to a bold color for your accent wall, you can do simple lines instead. Here's a super easy DIY you can do by hand with a few simple measurements, a pencil, and an accent wall color that pops.
Details and tutorial here:
4. DIY Sponge Wall
If you don't trust your hands to paint straight lines, you can use a sponge to help. You can use straight parallel lines or create geometric patterns.
Tutorial here:
5. DIY Sharpie Wall
A Sharpie paint pen, level, pencil, ladder or step-stool (depending on ceiling height), can help you easily recreate this gorgeous DIY Sharpie wall within a couple of hours. Draw a grid on the wall and put X's in the boxes.
Tutorial here:
6. Color-blocked Wall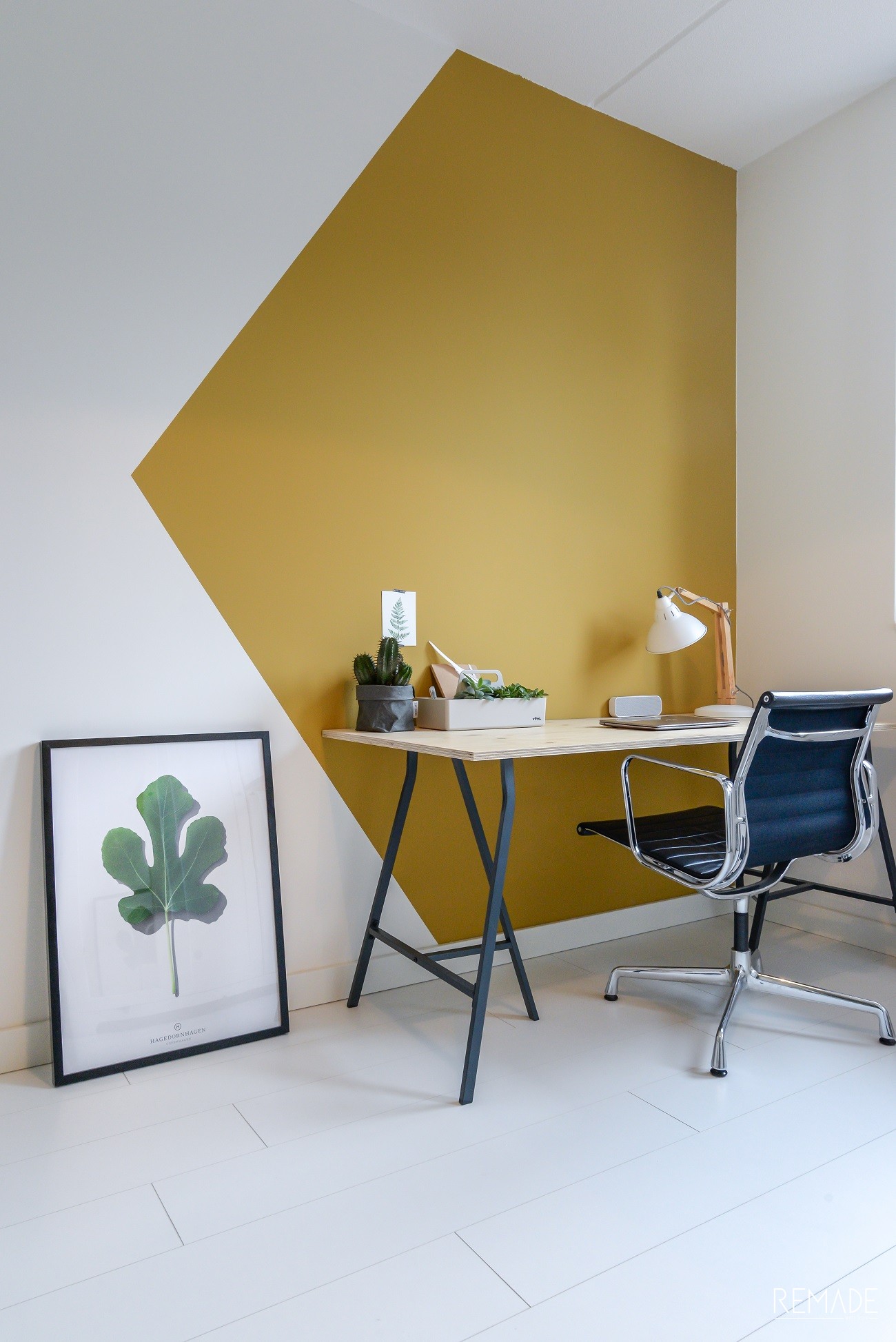 Get creative with painter's tape and frame your space in new ways by color-blocking your walls. There are lots of ways to use color to create designated nooks in your space.
Here are a few color-blocked accent wall ideas for inspiration:
7. Geometric Graphic Accent Wall
Go all out with your creativity and create geometric designs for your wall. You can choose bright colors, pastel, or go the minimalist route.
Tutorial here:
---
Related articles: