When is Renting Better than Buying a House?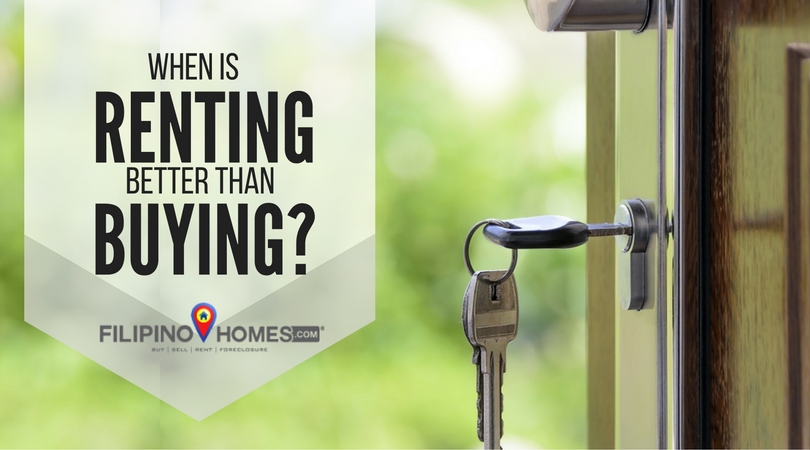 "Renting is just money down the drain" — right?
Home ownership is every Filipino family's dream. We work hard to have a home to call our own.  In general, we grow up with a mindset that buying is ALWAYS better than renting. As they say, a renter throws money away. But there are certain situations when renting makes more sense than buying. Here are some of them.
When You Might Move in the Next Five Years
If you have a job that requires you to move frequently, or if you prefer a nomadic lifestyle and move around every couple of months, then renting would make more sense than buying a house. Selling and then buying another home every time you move may not be practical. You will have to shell out cash for a downpayment for a new home, and selling can be expensive too.  While you may expect some capital growth in properties bought, the appreciation within that timeframe may not adequately cover the transaction fees involved in selling and buying properties. Real estate commissions, marketing costs, mortgage closing costs, legal fees and other costs can definitely add up.
When You Cannot Afford to Buy a Home
Clearly, if owning a property would leave you broke, it may be a good idea to rent. The expenses tied to home ownership does not end with the monthly mortgage payments. Regular repairs and maintenance, for example, now rests on your shoulder. Utilities, home insurance, home improvement and renovations, and even homeowners association fees will also be additional out-of-pocket expenses.
If you do not have extra room in your budget, owning a home may cause a strained financial situation.
When Buying Means a Longer Commute
If the house you intend to buy is far from your place of work, it may be wiser to rent somewhere nearer the office. Commuting costs should be taken into consideration in choosing your primary residence. Aside from the money involved, long commutes may also affect your well-being. It is one of the top causes of stress.
When You're New to the Area
While rushing to purchase a new home when you just moved into the city may be a good idea, it is a better idea to reconsider. First of all, your job may still be in flux within at least the next six months. You would need to settle into your new job and see how much you can afford. You also need to take the time to figure out which neighborhood you want to stay in, where the best schools for your kids are, which church you'll be going to, and the easiest commute to work.  A short-term rental would give you the opportunity to study the area first before committing to home ownership.
When You Don't Have the Ability to Maintain a Home
There is a less sexy side of owning your own home. Tending the garden, cleaning the gutters, fixing the pipes, remembering to deal with the septic tank are your responsibility. When you are renting, the landlord takes care of the upkeep of the property. It's different when you own the home. Unless you can afford to pay for professional services for all repairs and maintenance of your home, it may be a good idea to consider renting.
Having your own home is not necessarily always better than renting. It may be that there are points in life when it is better to buy, and other times when it's better to rent. Renting isn't always money down the drain. Sometimes, it's just the better decision.
---
Disclaimer:
This post is about your primary residence, meaning the place where you live / sleep.
This post is NOT about property investing.