4 Home Financing Options in the Philippines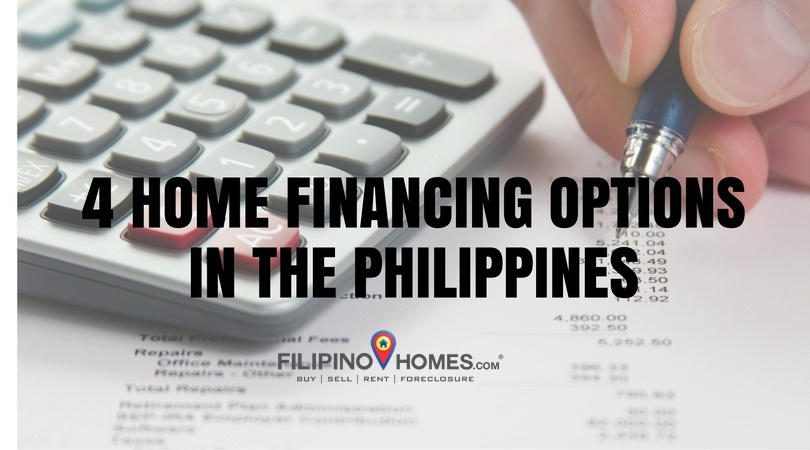 Buying real estate is a very good form of investment. Whether it's a dream house for you and your family or for an income generating opportunity such as boarding houses, apartments for rent, and office spaces that is within your reach through available home financing options. Learn the advantages and disadvantages of choosing home financing options and to know which one suits you best.
Home financing options in the Philippines
Spot Cash Payment
The easiest and fastest way to buy a real estate in any part of the Philippines is to pay it in spot cash. Spot cash payment means the buyer pays the price of the property in a short period of time in cash which is usually one month after the date of reservation.
Advantages
Enjoy discounts
Few requirements
No long term payment worries
Process & receive real estate documents in short period of time
Disadvantages
Most people can't afford to pay in spot cash
TIP: Most home buyers would choose paying in longer when buying a property. If you can purchase a property in spot cash, analyze your budget and state of finances first before making any decisions. 
Bank Financing
After paying the down payment, the buyer loans the balance of the property from a bank. This simply means that the bank pays the developer/owner of the real estate property and the buyer pays the bank. The property will be under the bank's name as collateral just so the bank can go after the property in case of nonpayment.
Advantages
Longer payment terms compared to in-house financing
Disadvantages
Longer the term, the more you end up paying (interest rates).
Strict bank terms of approval and on late payments
Pag-IBIG Financing
Pag-IBIG financing is the most popular among Filipinos because of the longer terms and lower interest rates. In this financing option, the buyer pays the equity first. Then, the balance will be financed through Pag-IBIG. Payment can be up to 30 years.
Advantages
Longer payment terms (can be up to 30 years)
Homebuyers can opt for short term loans
Lower interest rates (as low as 6%)
Disadvantages
Difficult for some to pay for the equity
More requirements compared to the other financing options
Longer processing of documents time compared to the other financing options
TIP: Ask the agent if the subdivision development you're eyeing at accepst Pag-IBIG financial. Not all developments accept Pag-IBIG financing is not allowed.
Deferred Cash Payment
Deferred cash payment means the total price of a real estate property will be divided equally in a given period of time (e.g. 3 years). If you see the following phrases: "No down payment required; No interest" then it uses the deferred cash method.
Advantages
No interest rates
No down payment
No need to worry about long term payments
Shorter period for the processing of real estate documents
Some developers give discounts
Disadvantages
Shorter terms, bigger monthly payments
TIP: Some developments also has a preferred home financing options. It is better to ask your real estate agent on what time of home financing option for the property you want to purchase.