PROJECT WATCH: The Mindanao Railway Project Expected to Start Next Year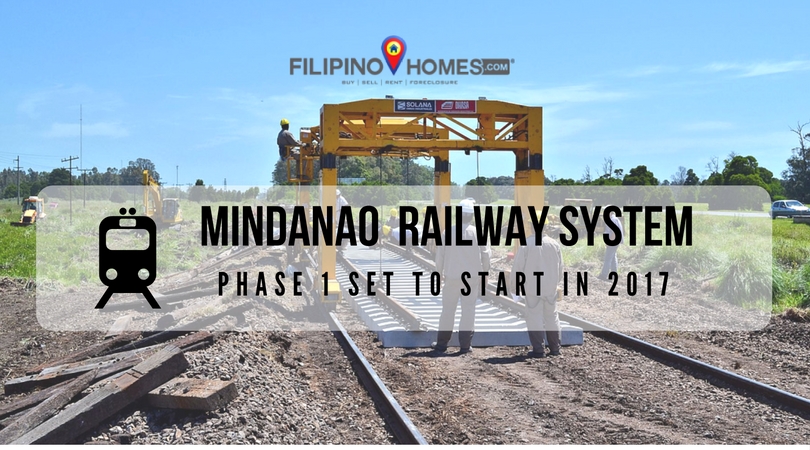 The proposed Mindanao Railway System project, identified as one of the top priority infrastructure projects under the Duterte administration, is set to start construction next year.  The National Economic Development Authority (NEDA) Secretariat has been ordered to complete the feasibility study for the most viable segment of the railway so it can be approved by the investment coordination committee (ICC) and the NEDA board within the year [src].
During the presidential campaign period, Rodrigo Duterte has identified the Mindanao Railway System as one of his "regional economic inclusiveness projects." During his first State of the Nation Address (SONA), the President has reiterated that the government will pursue rail projects in major key points in the country, including Mindanao.
MindaRail Bill Passed in Senate
In response to Duterte's SONA, Sen. Sonny Angara has filed a bill creating the state-owned Mindanao Railways Corporation. Angara said establishing the "MindaRail" would allow Mindanao's urban centers and growth corridors such as avao, General Santos, Cagayan de Oro, Iligan, Cotabato, Malaybalay to be linked by rail.
Mindanao Railway System in Six Phases
According to the proposed plan, the 2,000-km Mindanao Railway System will be built in six phases.
The first phase of the project includes construction of a 124-km circumferential railway system will cover the Cagayan de Oro – Iligan Corridor, from the municipality of Jasaan, Misamis Oriental to Linamon, Lanao del Norte. Phase 1 will traverse 10 coastal  municipalities, including Lugait, Manticao, Naawan, Initao, Liberated, Gitagum, Laguindingan, Alubi-jid, El Salvador and Opol. The Northern Mindanao segment will continue its construction from Jasaan, Misamis Oriental to Nasipit, Agusan del Norte passing through Gingoog City.
Phase 2 will connect Nasipit, Agusan del Norte to Surigao City passing through Butuan City. Phase 3 will connect CARAGA and Davao regions, from Butuan City and Prosperidad, Agusan del Norte to Tagum City in Davao del Norte, extending up to Davao City. The fourth phase will connect Cotabato City to General Santos City, extending up to Malungon in Sarangani province. Phase 5 will cover Western Mindanao, from Zamboanga City to Aurora, Zamboanga del Sur passing through Ipil, Zamboanga Sibugay and Dipolog City. It will also be connected to Northern Mindanao in Linamon, Lanao del Norte (phase 1) and another track will connect Cotabato City (phase 4).
Finally, phase 6 will start in Cagayan de Oro City (also in phase 1) to Malungon, Sarangani that connects phase 4 (Gensan – Cotabato). The final stage will cover the key cities such as Malaybalay City, Valencia City and Damulog in Bukidnon to Davao City and Digos City in Davao del Sur. Cagayan de Oro and Davao City will be the main point railway station of the said project.
The fulfillment of the Mindanao Railway System is deemed crucial for economic development in Mindanao as it would improve inter-island connectivity by linking major cities including Davao, General Santos, Cagayan de Oro, Iligan, Zamboanga, Butuan, and Surigao.