Top 10 Attractions in Tagum City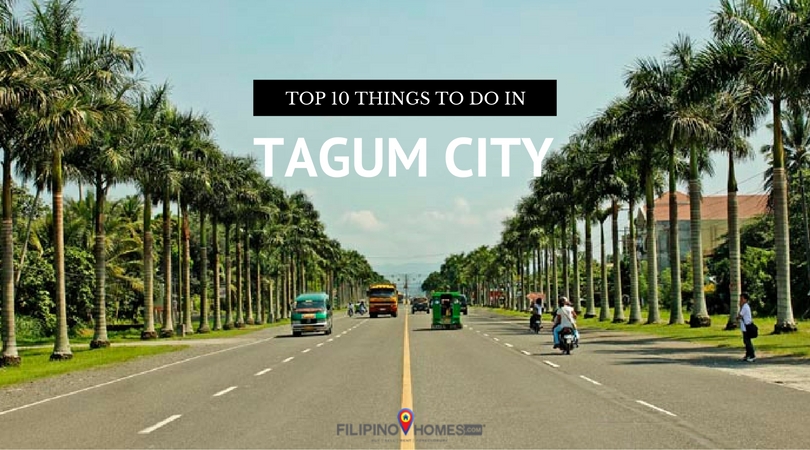 The City of Tagum is the provincial capital of Davao Del Norte and one of the six cities in the entire Davao Region. Strategically located at the crossroads between the rural areas of Davao del Norte and Compostela Valley and the urban Metro Davao, it is no surprise that the City is  rising as one of the top tourist destinations in Mindanao.
Here are some of the most visited attractions in Tagum City:
Daang Maharlika
Literally translating to "Royal Road," Tagum City welcomes its visitors with a royal greeting through Daang Maharlika. It is a wide avenue neatly lined with palm trees.  This Royal Entrance starts 7 kilometers from the city's center, on a six-lane highway.
New City Hall of Tagum City
The new City Hall, which was inaugurated earlier this year during the 18th founding anniversary of Tagum, sits on the sprawling 8-hectare land in Brgy Apokon. It is a Php 700-million state-of-the-art building on the property donated by Davao business magnate, Jesus V. Ayala. The structure attracts visitors for its colossal structure and environment-friendly design and technology.
Energy Park 
The Energy Park, locally known as the E-Park, houses some government offices of Tagum City. It is a 25-hectare  place to rest, relax and do recreational activities.
San Agustin Botanical Park
San Agustin Botanical Park is a perfect spot to escape from the hustle and bustle of the city. One can enjoy the sceneries planted with 37, 620 different endemic and exotic tree species.
Davao del Norte Sports and Tourism Complex
The Davao del Norte Sports and Tourism Complex, located across the Provincial Government Compound in Mankilam, Tagum City, is the largest sports complex in the Davao region. It boasts of sporting facilities including a grandstand, a rubberized 8-track oval, an Olympic-sized swimming pool, tennis courts, football fields, and a multipurpose gymnasium. Since its inauguration in December 2012, the complex had hosted big sporting events, including the Palarong Pambansa.
The Largest Holy Rosary
Christ the King Cathedral, located at the corner of Gonzales Avenue and Sobrecary Street in Magugpo South, is home to the 85.5-meter-long rosary. The 2,815-kg  rosary is made of linked beads, lining a pathway going to the giant bronze statue of the Risen Christ. The beads of the giant rosary, each weighing 35 kg, are made from magcono (iron wood), which is native to the mountains of Davao Oriental and Surigao del Sur.
Tagum City River Cruise
The 8.8-km river cruise is another must-see destination in the City. The 2.5-hour journey jumps off from Punong Restaurant with stopovers in Maningo Farm featuring the famous soft-shelled crabs; the Ka'gan Village which displays Muslim Trades and Delicacies; the boardwalk observatory under the shades of century-old mangrove trees; and a floating tiangge which sells packed goodies on a local gakit.
Night Market
At the end of each day, 6 streets in Tagum City close and become a food and shoppers haven. Open from Monday to Sunday at 6:00 pm to 2:00 am, the Night Market is set up by the city government to bring more business and employment opportunities for the locals. Stalls selling foodstuff and ukay-ukay clothes open and welcome foodies and shoppers alike.
Hijo Resorts Davao (Banana Beach)
If it's #ResortLife you're looking for, Tagum surely does not disappoint. Hijo Resorts Davao is a sprawling 760-hectare property with a thriving banana and coconut plantation and a fully operational industrial zone. It has established itself as the first and only eco-agri tourism destination of the country, using the property's natural landscape as a way to increase awareness and promote sustainable tourism and nature conservation. Home to a sprawling beach, vast river, lush forest, and plantation, this 23-bedroom estate is the ideal getaway for those who love nature and seek to preserve it in the most enjoyable way.
With these attractions and more, it is no wonder that Tagum City has gained a number of nicknames, including City of Palms, Music Capital of Mindanao, Home of Festivals, and City of Parks.
Have you planned your visit yet?
---
Other articles you might want to check out:
Lovette Jam is a founding member and blogger of Filipino Homes. She is a freelance digital media professional. With a Masters in Business Management degree and Hubspot certification on Inbound Marketing, she currently works as a social media manager, project manager, and digital consultant.
Lovette Jam is also the founder of Iligan Bloggers Society, Inc. She authors the travel blog Travel Jams and lifestyle blog Lovette Jam.