Cebu Residential Property Market Report [1H 2020] and What This Means For You
Jones Lang LaSalle IP, Inc (JLL), the Philippines' leading real estate and investment management firm, recently released the Philippine Property Market Report for the first half of 2020. The report highlights key movements and updates in the office, residential, retail, and hospitality sectors of the real estate market in the country. This blog post focuses on the state of the residential property market in Metro Cebu, covering Cebu City, Mandaue City, and Lapu-Lapu City.
---
Residential Property Market
Supply
Stricter community quarantine in most areas of Metro Cebu led to zero development completions during the first half of 2020. Constructions stopped in line with the safety measures against the pandemic. Approximately 50% of 1H2020 pipeline is likely slip to 2021.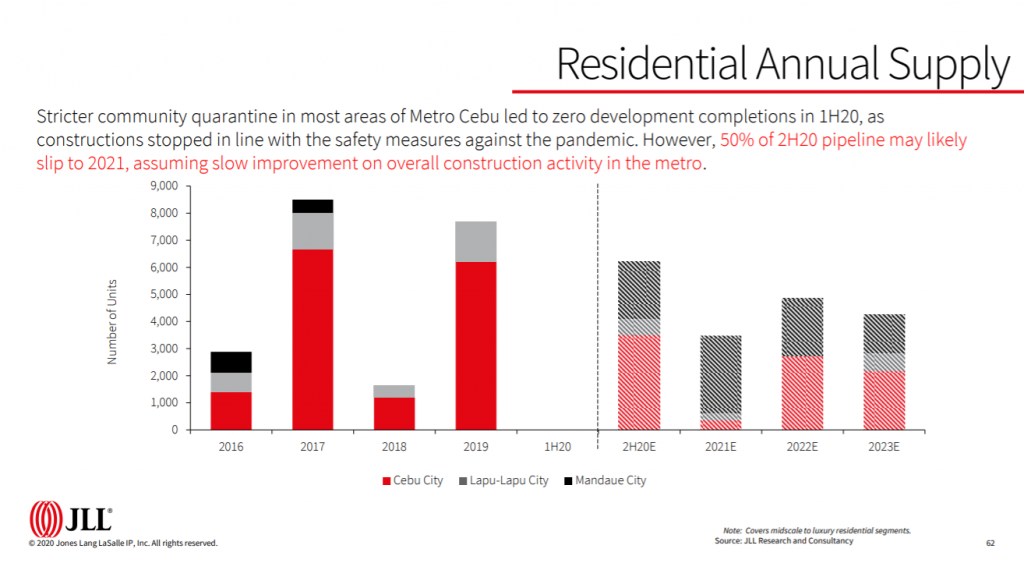 Market Share
In terms of market share, the existing supply share of each district remained unchanged since 2019. However, Mandaue City is seen to have the second largest residential stock by end-2023, with the completion of more than 6,000 units in Mandani Bay by HT Land, Inc.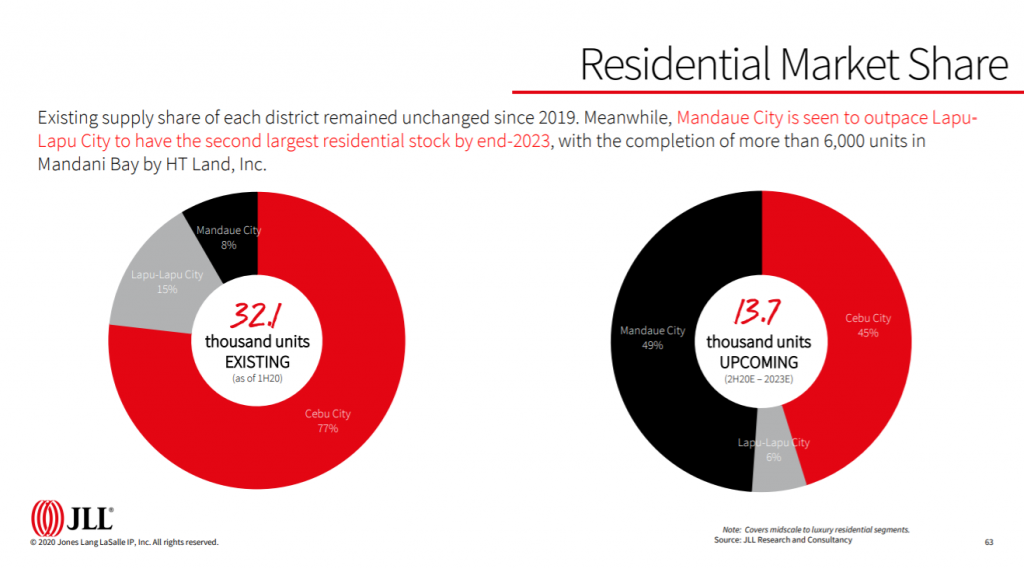 ---
---
Demand
Lease Market
Metro Cebu saw an increase in the average vacancy rate at 4.5% in the first half of the year from 3.7% in 2H19. This reduces the overall occupancy level by 146 units across districts.
Demand Drivers
The leasing market for upper mid to luxury developments in Metro Cebu is primarily composed of local frontliners and BPO workers of nearby offices looking for halfway homes and expatriate employees constrained by the travel ban during the pandemic.
Rent Prices
The average Metro Cebu residential rent observed a significant decline of 28.8% to PHP 32,300/month in 1H20 relative to 2H19. This is attributed to the reduction of occupancies across districts amid the persistence of the pandemic.
---
Sale Market
The average cumulative sales rate of ready-for-occupancy developments in Metro Cebu reached 99.1% in 1H20. However, 4Q19 vs. 2Q20 calculation of net take-up revealed that about 12 units were brought back available to the market.
Despite the lower cumulative sales rate of 95.3% in 1H20, the pre-selling market remained healthy as compared to the secondary market, with a positive net take-up of more than 889 units between 4Q19 and 2Q20.
Demand Drivers
The residential sale market is driven primarily by high-net-worth investors who are composed of local and foreign bulk buyers and end-users or families looking for vacation homes, particularly in seaside developments.
Selling Prices
The average selling price of ready-for-occupancy developments declined by 2.8% to PHP 133,500/sqm in 1H20 against 2H19 due to weaker takeup. On the other hand, the average selling price of pipeline developments also observed a minimal dip by 0.6% to PHP 160,800/sqm, despite the healthy take-up.
---
---
What This Means For You
The flexible payment options maintained healthy demand for the pre-selling market, evident from positive take-up. However, the secondary market experienced a weaker demand, causing a downward pressure on rents and selling prices.
If you are looking for opportunities to increase your passive income, talk to a professional real estate service provider.
---
Related Articles
Learn more about property investing. Read more:
Full report: https://www.jll.com.ph/en/trends-and-insights/research/philippine-property-market-overview-1h20
---
---