Gaming Room Ideas to Steal for Your next Room Makeover
Gaming room or what streamers call it "battle stations" are growing in popularity for homeowners and renters alike especially during the quarantine. There have been a lot of posts about this on social media, and some even went viral. The funny thing is, it's not only gaining momentum in the gaming world, but almost everyone is getting hooked on it and actually dreamed of having one.
Well, thanks to subscription games, free-play, and multiplayer online platforms (not to mention COVID). It allows us to create a gaming room space at home since we don't have much to do during the lockdown.
READ: PH Property Sector Remains Optimistic Amid COVID-19 Threat
So, whether you're a gamer, an avid streamer, or just someone who wants to upgrade an empty room space for family night or an entertainment spot for your friends to gather, let's look at these amazing gaming room designs to put together your ultimate PC station.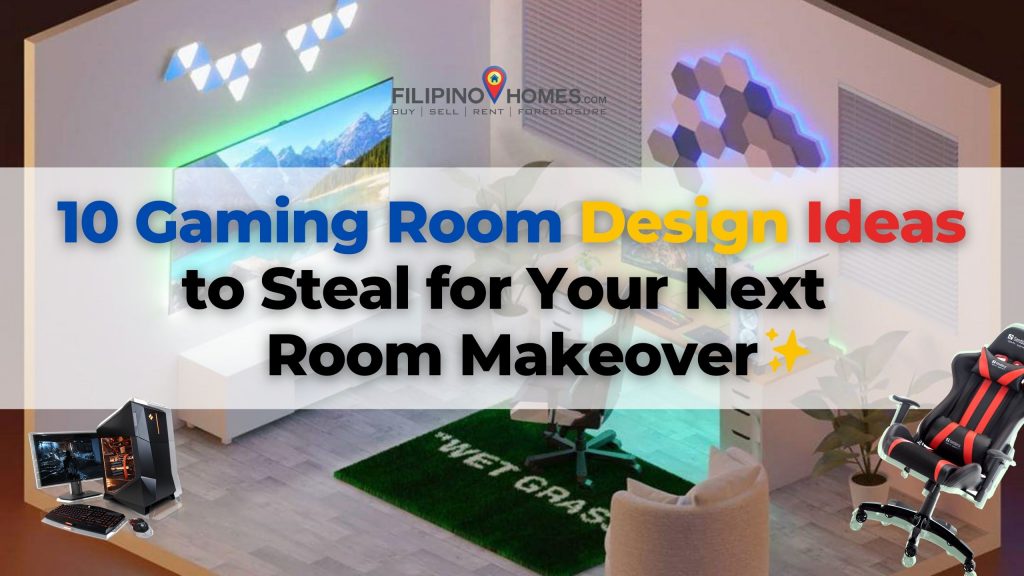 1. Simple Escape Room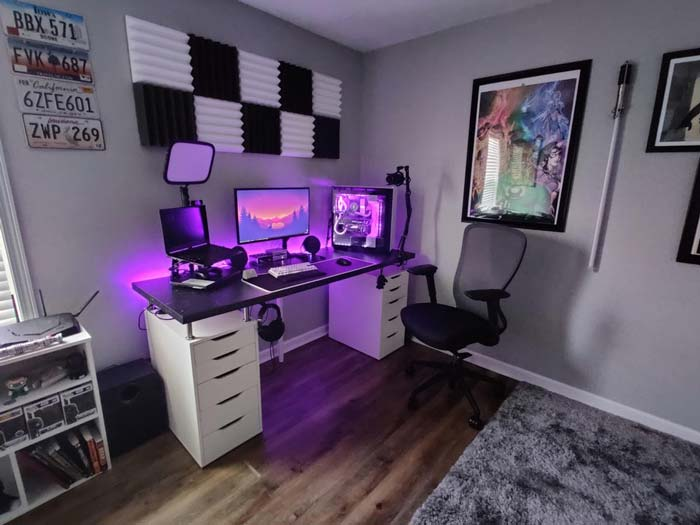 If you're someone who just wants to recreate a studio into a simple gaming hideout, why not divide your room space into functions. Just put some personalized stuff on your wall to add details on it. You may also want to upgrade your gaming chair with an elevated screen as this promotes a more comfortable, relaxed gameplay.
2. Minimalist Workspace
This one is more of a workspace rather than a gaming console. While many gamers prefer playing close to eye level with their monitor, this minimalist design makes an ideal place to think and create. Feel free to adorn some artificial plants to freshen up space without the need for a green thumb.
3. Futuristic Gaming Room
Another amazing build by dopegamingsetup. If you want your room into a futuristic gaming and chill area, try this. As you can see, the setup wall may look pretty ordinary but it has niches inside to fix small patches using futuristic, customizable LED strip lighting. Combat the darkness by placing LED strip lighting along your ceiling or under the rim of your desk or shelving units. This gives you a space-age, ultra modern look. Dope right?
4. Bold and Sleek (Justice League-inspired office setup)
This gaming room with four-screen monitor channels a collection of Justice League miniatures and funkos. In this design, you may want to choose a desk with a broad, flat surface that can comfortably accommodate your monitors, keyboard, mouse, and other accessories. Put your collectibles on display on floating shelves that will look cool and modern staggered at different places on your wall.
5. Backlight Setup with Decorative Feature
Floor mats work really well with this one. If you want a nice bright room with good backlighting and decorative features, then it's worth a try. Just remember though it is important for your PC gaming setup to comfortably accommodate your monitor or monitors. This will prevent neck strain thus giving you the comfort you need while you hustle.
6. Flying Coffin
Dubbed as the Flying Coffin, ths gaming room setup includes a built-in force feedback seat, steering wheel, flight stick, and rudder pedals. What's cool about this is that when it's stowed away, you'd never know it was there. Cool right? And sure, you can replicate the experience of piloting a jet with a keyboard, but it's a lot more fun with a flight stick and all the stuff.
7. Blended Double
Take your game room decor to the next level by highlighting it with a novelty neon, just like Darien Cardenas Gaming haven! Although this design looks really simple, it actually has powerful gaming equipment. Plus, if you have an open space against one wall, you can go with simple rectangular shelves for your consoles and collection funkos.
8. Six-Monitor Ultimate Streaming Setup
With the rise of affordable large screens, you can now explore panoramas of visual data just like this six-monitor setup with epic red backlights by Reddit user @heartbraden! This gaming room design features a large screen for a panoramic media view, a trio at the bottom for amazing graphics, and two other for monitoring security cameras, and other cool stuff. It's like you're in "the Hive" in Halle Berry's movie The Call.
9. Pink Perfection
This gaming room design by @arturoldan will definitely make every girl blush. It features a dual-stacked ultrawide monitor which is perfect for streaming! You can actually personalize this gaming setup by adding nano leaf lights or by plastering the walls with graphic prints or DIY accent walls that represent you.
10. Battle Royale Warzone
Man, this is sleek! Did you know Battle Royale is currently the hottest genre in the video game industry and has the astonishing player count? This unique concept by mar_cel88 makes the inherent replayability of battle royale games and perfect entertainment space for your family and friends! Whether you're playing on an Xbox, PlayStation, or whatever, this perfectly suits your weekend game day!
And that's it! Hope these amazing gaming room ideas will help you get the dream gaming room you have always wanted.
Remember, the goal is to have some kind of breaks to refuel, unwind, and jump back in full throttle of life's real game.